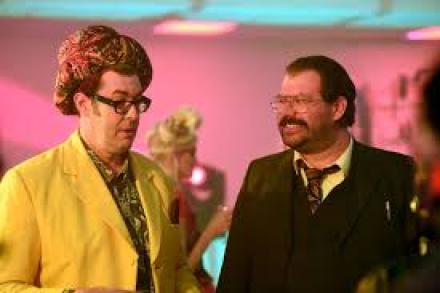 It is hard to come up with a new TV format these days. So hoorah to BBC3 for commissioning Murder In Successville. Not quite a sitcom, not quite a whodunnit, not quite an impressions show, not quite a celebrity satire, not quite an improv show. Instead it's all of these things. And it must be doing well, it is now back for its third series.
Just to recap, each week a celebrity becomes a rookie cop who has to crack a case working under gobby, sleazy, Di Sleet (Tom Davis). Future guests include Reggie Yates and Martin Kemp, but first up is Richard Osman, who is not just as tall as Sleet, but arguably sharper than him when it comes to cracking the case of the Brass Gnome - an art heist which becomes a murder investigation when gallery curator Bjork (Ellie White) is bumped off.
I like these shows best when the celebrity – no names, no pack drill – is as thick as a brick and doesn't have much of a clue about what is going on. As you might have guessed Richard Osman – dubbed "Positive Pete" by Sleet – is not like that. From the very start he is backchatting and getting one over on his boss, even coming up with a new announcement to go with Successville's police sirens.
So who did it? Was it art teacher Hillary Clinton (Cariad Lloyd)? Zayne Malik (Jamie Demetriou) or underground art dealer Bill Nighy (Terry Mynott). Or could it even be Arsene Wenger (Luke Kempner)? Only one of them is guilty and Osman, not surprisingly, is pretty good at spotting clues along the way. He is a good sport too - donning a rather ridiculous hat to go undercover and getting down on all fours to blow on Sleet's penis to keep it warm during a life drawing class.
Murder In Successville is one of the most idiosyncratic, original shows on television. It is not always non-stop laughs and the impressions are often quirky rather than Jon Culshaw accurate. Although Ellie White's Bjork was so good I thought it was a star cameo and Cariad Lloyd's Hillary Clinton made me briefly wonder if the almost-President had opted for an Ed Balls-type career change.
And don't worry if you don't crack the case. If Richard Osman joined the Successville police force on a regular basis I expect the crime wave there would soon be reduced to a dribble.
Available via BBC3/iPlayer from April 19 at 10am and on BBC1 on Saturday April 22, 11.20pm.