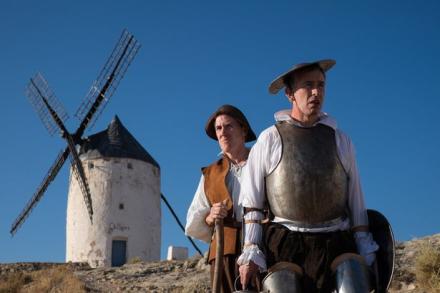 Steve Coogan and Rob Brydon have crossed the channel again for another instalment in their ongoing effort to eat and quip their way around the planet. In fact they've crossed the channel in two senses - the first episode starts with them getting on a ferry (though not the one Brydon usually advertises) and is being broadcast on Sky Atlantic rather than BBC2 this time round.
But apart from the switch of broadcaster it is a relief to say that little has changed. Director Michael Winterbottom once again allows the camera to earwig as the two stars trade witticisms, philosophical thoughts and impressions between playing status games. The feuding foodies might be rivals, but they do also seem like friends, despite the odd sly dig about who gets the bigger room or the awkward moment when Brydon tries to get access to a private cave by boasting about how many Twitter follower he has. 
This fictional power balance is maybe slightly more even here than in past Trips, as both seem to be doing well career-wise. Brydon has plenty of work on the go and Coogan is revisiting the country he travelled to in his youth with a view to putting together an autobiographical memoir. It would be easy – as the accompanying picture has done – to portray them as Don Quixote and Sancho Panza, but Brydon is certainly no mere sidekick. He gives as good as he gets.
The pace of the first episode is pretty gentle, with plenty of scenes of the duo merely driving through the countryside in northern Spain with little more than Coogan dad-beatboxing for company. But the big laughs come when they discuss the potentially unfunny topic of death. And once they get stuck into their voice-offs at the dinner table and Jagger, Caine and Pacino have cameos we are on a firm comedic footing once again. 
The full series will be available from Thursday April 6, Sky Atlantic, 10pm. 
Watch their Jagger-off here.
Picture from Sky.