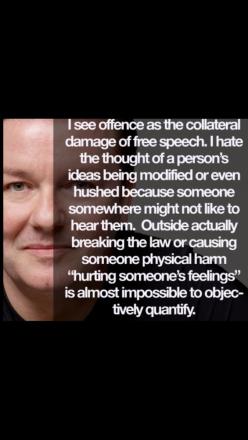 Ricky Gervais has responded to criticism following reports that a couple were upset over a 'dead baby' joke he told at his Humanity gig at the Waterfront Hall in Belfast earlier this week.
Gervais has emphasised that the target of the joke is not dead children or bereaved parents. Beyond The Joke understands that the comic gist of the joke is what a terrible parent Gervais - who does not have children – would be.
He has posted the picture and quote accompanying this story on Twitter, which begins: "I see offence as the collateral damage of free speech..."
He pinned the following at the top of his feed: "I wish I had a pound for every time I offended someone. Wait, I do."
Posting on Twitter he added: "Basically, offence is about feelings, and feelings are personal. People simply don't like being reminded of bad things."
Earlier today he wrote: "I'm coming to Sheffield next week. Can't wait. Warning: Contains many jokes that may offend your nan."
He also retweeted a supportive tweet posted by film critic Mark Kermode before the Waterfront show: "Still thinking about @rickygervais's HUMANITY show three days later. Painfully funny, scarily taboo-breaking, solidly thought-provoking."
He has also had support from fans since the incident. Kevin Bimpson posted: "This 'dead baby' joke @rickygervais makes in his new show #humanity, had me crying...................with uncontrollable laughter!! #legend"
More on this story here.