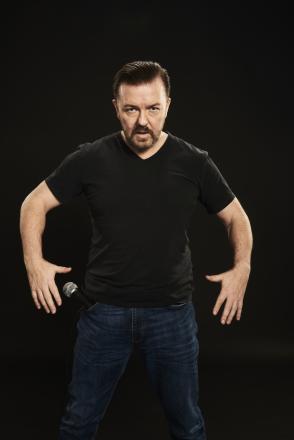 In an effort to take action against ticket touts, Ricky Gervais allocated a limited number of Platinum Tickets across his worldwide Humanity tour. From the sales of these Platinum Tickets, nearly £160k has been raised across the UK and Europe for good causes to date, with the RSPCA and Macmillan Cancer Support in the UK receiving in excess of £65k each.
Platinum Tickets for Ricky Gervais's tour guarantee premium seats at market rates, with the extra profits from these ticket sales going to worthwhile causes in each country.
On the thousands of pounds raised to date for charities through these Platinum Ticket sales, Gervais said: "This scheme is taking back the thousands of pounds ticket touts make every year by giving this money to good causes instead, including great charities like the RSPCA and Macmillan Cancer Support here in the UK. It's such a privilege that people will pay money to come and watch me perform stand-up, and I hope that fans across the world continue to recognise the positive impact that buying Platinum Tickets has on worthwhile causes."  
Lynda Thomas, Chief Executive of Macmillan Cancer Support, said: "We're extremely grateful to Ricky for choosing to raise money for our charity through the sale of platinum tickets. Ricky is a fantastic supporter of Macmillan and has always been extremely generous in donating auction prizes, money and his valuable time to help us support people affected by cancer. Thanks to the money raised at events like this, we are able to reach the ever-increasing number of people affected by cancer with our information, advice and support."
Jeremy Cooper, RSPCA Chief Executive, said: "We are really grateful to Ricky for donating this money and being such a great friend to animals. His ongoing commitment to animal causes has made a huge difference in highlighting the issues we care about and generating public support for change. This generous act will help us to continue our critical work investigating cruelty and rescuing animals."
There are still some platinum tickets available for some shows on the 63-date tour. To check availability click here.