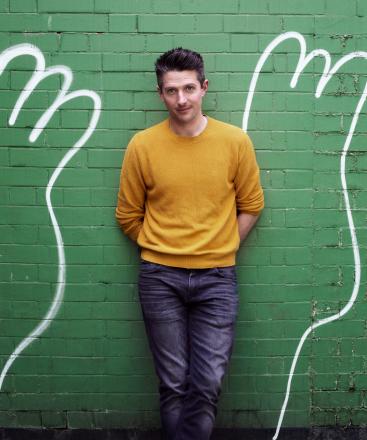 Marketing teams take note. It was interesting to discover how Stuart Goldsmith sold most tickets for his show at the Glasgow Comedy Festival. Not through PR. Not through advertising. Through his podcast. A mention of his excellent Comedian's Comedian interview series (200 guests and counting) got hands shooting up into the air as if he was giving away free shortbread.  
One of the downsides of interviewing so many top comedians in depth though may be that while former street performer Goldsmith has learnt a lot about the mechanics of stand-up, it hasn't necessarily helped him to find his own distinctive voice. During his show last night there were hints of various other comedians, from Jack Whitehall's smiley self-deprecation to Joe Lycett's flirty campery to (a couple of times) Russell Howard's Bristol accent - though the latter might be because Goldsmith has recently moved from London to the West Country. 
In fact while Goldsmith says at the outset that the show – a truncated version of his touring show due to venue time constraints – that Compared To What is about trying to be less self-obsessed, a large chunk of the show is more about moving to the country to please his partner following their engagement, though I guess that is about not putting oneself first.
The show certainly contains lots of effective routines. What it lacks in distinctive personality it more than makes up for in laughs. There's a very funny anecdote about proposing in San Francisco in the vicinity of a man naked except for, well, you'll have to see the show to find out. There is also a nice riff complaining about people using phones in quiet carriages and how everyone has an inner self, which thinks all sorts of things, and a very different outer self, which we present to others.
Some of his biggest laughs came from spontaneous asides and digressions. Unless, of course, he is such a master craftsman that his quickwitted ad libs and off-piste moments are all scripted. A large chunk of his set, however, is about that well-trodden comedy trope, becoming a parent. This is linked to his narcissism theme because becoming a father is a pretty good way of seeing that you are not the most important thing in the world. The twist here is that Goldsmith confesses to initially being a bit meh about the birth. He neatly turns this around though with a bit of schtick to make him more soft and soppy than he briefly sounds. And naturally the meh feelings don't last long anyway.
The result is a clever performance that certainly pleased his fans who – and I don't mean to sound sarcastic or snobby here – genuinely didn't look like a bunch of podcast-addicted geeks. In fact they looked quite normal. Which is great. Partly as I'm one of them and partly as I did wonder who, apart from me and numerous comics, listened to Goldsmith's podcasts. And now, as well as enjoying an hour of comedy, I know what they look like.
Stuart Goldsmith is currently on tour. Dates here. Listen to his podcasts here.
Glasgow Comedy Festival runs until March 26. Details here.
Message to Stuart - You said on your website that no-one ever clicks on your Live Stuff button. That's probably because it is so small and bleached out I suspect they don't see it! Speak to your webmaster pronto.