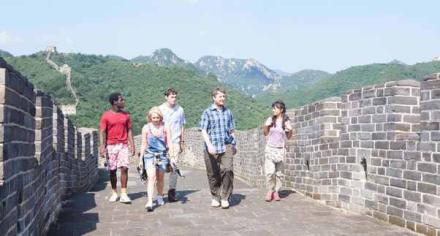 More details have been released about the forthcoming eagerly anticipated drama Gap Year, featuring a host of comedy names including Tim Key, Robert Bathurst, Aisling Bea and Jamie Demetriou.
Taking in ancient rainforests, full moon beach-parties, futuristic Asian mega-cities and remote monasteries in the foothills of the Himalayas, Gap Year is a new, eight-part comedy drama from Tom Basden (Plebs, Fresh Meat, BBC's forthcoming Quacks). It's the story of British lads Dylan (Anders Hayward, Sistema) and Sean (BAFTA-nominated Ade Oyefeso, E4's Youngers), childhood friends who have drifted apart, who initially set out to backpack through China but end up taking on the whole continent.
On the road the pair quickly form a motley crew with the first fellow travellers they meet. Relentlessly upbeat Brit Greg (Edinburgh Comedy Award winner Tim Key, Alan Partridge: Alpha Papa, I Give It A Year) is trying to relive the highs of the Gap Year he nailed in the late 90s, refusing to deal with his crumbling marriage, business and life in general. He has latched himself onto two American students, conscientious Chinese-American May (Alice Lee, Switched At Birth) who's in Beijing to re-connect with her long-lost family, and headstrong party-animal Ashley (Brittney Wilson, Rogue) who, at the insistence of May's protective Mum, has been enlisted as May's travelling companion – on May's family's dime.
But little does Sean know that his best mate, Dylan, a hopeless romantic and precocious philosophy student, has planned the trip with ulterior motives... Can Sean, who's forgone a sure-fire 'lads holiday' to join Dylan in smoggy Beijing, accept the real reason for their long-haul getaway? And can May and Ashley, who have wildly different plans for their trip, have each other's back no matter how far their vacation veers off course?
What begins as a disorientating, eventful and potentially disastrous holiday for all of them soon morphs into an unforgettable and joyous voyage of self-discovery, packed full of sun, sex and constant surprises over eight must-watch episodes. As our gang trek across China, Vietnam, Thailand, Malaysia and Nepal they soon learn that, no matter how far you go, you can never take a holiday from yourself.
Across Asia, the gang cross paths with a range of weird and wonderful people. Iconic American comedian and actorJaneane Garofolo (Romy and Michele's High School Reunion, The Truth About Cats and Dogs) appears as Sam Bevan, an acerbic, jaded American travel writer who susses Dylan and Sean out in seconds. Comedian and actor Aisling Bea (The Fall) and Trystan Gravelle (National Treasure) play Kendra and Eugene, ever-bickering honeymooners that the gang meet on the Great Wall of China. Scott Adsit (Veep) plays Todd, the short-tempered American manager of a Vietnamese orphanage where the gang find themselves volunteering. BAFTA-winning Daniel Rigby (Flowers) plays Greg's old school friend Jotty, a mega rich ex-pat who lives off champagne in Kuala Lumpar, and who with Bertie, Robert Bathurst (Cold Feet), Jotty's debauched chum, take the motley crew out on the tiles for a memorable night in KL. Rounding out the cast as Lauren, Dylan's high-achieving ex-girlfriend, is Rachel Redford (The Riot Club) and her on-again-off-again American boyfriend 'Social' Norm (Jamie Demetriou, Fleabag).
Created by actor-writer Tom Basden, Gap Year is written by Basden, James Wood (Rev, Ambassadors), Amy Roberts & Loren McLaughlin (Shameless, Cold Feet), Charlie Covell (Banana, Burn Burn Burn), Tim Key (We Need Answers, Screenwipe), Jonny Sweet (Together, Chickens) and Sam Leifer (Plebs). The series is produced by Tim Whitby, co-creators and exec producers are Jamie Campbell and Joel Wilson for the BAFTA-nominated production company Eleven. Award-winning director Jonathan van Tulleken (Off Season, Top Boy, Misfits) set the show up, directing the first block as well as the final episode.
The eight-part series was commissioned for E4 by Commissioning Editor for Drama Roberto Troni and will go out later this month.