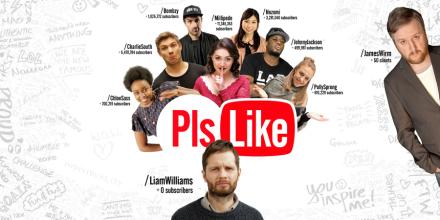 BBC Three is to launch a new mockumentary, Pls Like, about the search for the next megastar vlogger. Produced by Left Bank Pictures, the weekly series follows struggling comedian Liam (Williams) as the unlikely victor who must undertake a series of challenges in order to win a £10,000 prize. 
With the help of established (fictional) YouTubers Charlie South (Jonathan Pointing) and Millipede (Emma Sidi), as well as Talent Manager, James Wirm (Tim Key), Liam aka Vloggy McVlogface must undertake a series of challenges to see if he has what it takes to become the next big vlogger.
Liam Williams says: "It's been fun and rewarding getting to work with some of my favourite comedians and a very talented creative team to lampoon a world which I find baffling and envy-inducing in equal measure".
Tim Key says: 'I loved working on Pls Like, Liam's a smart writer and he has made serious amounts of hay in a weird and wonderful world I know nothing about. It was a joy working with him and his glowingly talented acolytes on this sparkling new series.'
Alex Moody, Commissioning Editor, BBC Comedy says: "We could not be more excited about launching Pls Like on BBC Three. Liam's brilliantly smart satire about online fame has attracted a hugely talented cast. Together they lampoon a world that is fascinating, hilarious and awful in equal measure."
Pls Like will be available to watch on BBC Three's YouTube channel from Saturday 11th February.