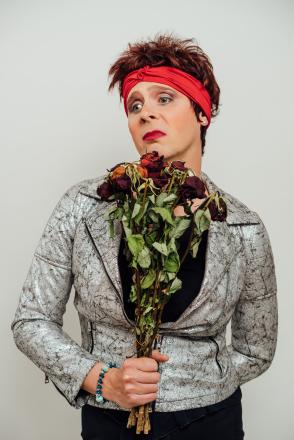 Sky has announced a new batch of romantic Comedy Shorts. The love-themed series has been created especially for Valentine's Day and will be available on demand from February 8 and then broadcast on Sky Arts later in February.
The series will showcase the work of Nick Mohammed (as Mr Swallow), Rosie Cavaliero with Paul Tonkinson, Liam Williams, Colin Hoult (as Anna Mann), Desiree Burch, comic trio The Midnight Beast and Paul G. Raymond with Mark Silcox. 
Follow comic tales of internet dating, wedding anniversaries, unruly marriage proposals and bizarre date coaching, not forgetting an alternative take on the musical Grease and the shambolic rehearsals of Shakespeare's Romeo and Juliet for all the star-crossed comedy lovers out there.
Commenting on the latest series of shorts, Sky's Head of Comedy Jon Mountague said: "I love that our popular and successful Comedy Shorts are back and now with added romance - it's no coincidence that I share a surname with Shakespeare's Romeo. Much loved by our on demand and Sky Arts customers, this new heart-tickly batch of funnies will set the pulse racing. If comedy be the food of love, play on, with this brilliant array of adorably funny talent. Happy Valentine's."
The stories in the series are:
Desiree Burch's Valentine
A single woman and her single gay best friend propose to have the best Valentine's Day ever together by milking as many of the establishments they go to as he pretends to propose to her. 
Starring: Desiree Burch 
Production Company: Spelthorne Community Television                            
Rosie Cavaliero's and Paul Tonkinson's Valentine
Follow the comic misadventures of a middle-aged couple on a weekend getaway to re-kindle their marriage. 
Starring: Rosie Cavaliero and Paul Tonkinson
Production Company: Spelthorne Community Television                           
Anna Mann's Valentine
The irrepressible Anna Mann (pictured) gate-crashes one couple's Valentine dinner, forcing them to face up to the state of their relationship.
Starring: Colin Hoult as Anna Mann, Rebecca Johnson, Dan Tetsell and Harman Singh
Production Company: The Comedy Unit   
The Midnight Beast's Valentine
Twisted reimagining of Grease. Everyone's back at High School after Valentine's Day, but what happened the night before? Good-girl Sally has a surprise for bad-boy Dandy.
Starring: Stefan Abingdon, Ashley Horne, Dru Wakely and Dan Skinner
Production Company: Colour TV  
Paul G Raymond's Valentine 
Rich and his feckless friend AJ encourage Rich's old-fashioned dad to enter the daunting world of internet dating. 
Starring: Paul G Raymond, Mark Silcox, Alexander Jeremy and Megan Hockley 
Production Company: Spelthorne Community Television
Mr Swallow's Valentine
Mr Swallow and business partner Mr Goldsworth are putting on a special production of Romeo and Juliet for Valentine's Day with fellow lodger and wannabe actor Jonathan.
Starring: Nick Mohammed as Mr Swallow, Kieran Hodgson and David Elms.
Production Company: Guilty Party Pictures                                  
Liam Williams's Valentine
A dating comedy set in a world where it's normal, just about, to take a dating coach on a date with you. 
Starring: Liam Williams, Jamie Demetriou, Natasia Demetriou, Isabella Laughland and Jonathan Pointing
Production Company: Warp Films
Watch them all now on Sky Go.