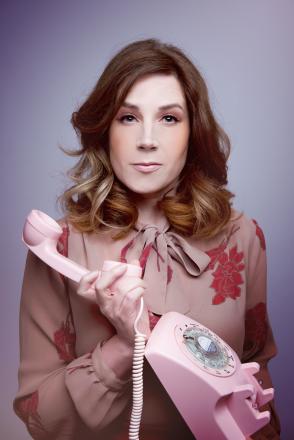 What do your parents/children (delete as applicable) think of your job?
My children like it (for the time being) -- and my thirteen-year-old is my occasional roadie. My parents think it is foolish. (I know!) 
What's the worst thing about being a comedian?
Late night motorway diversions. Currently, the M3.
I think you are very good at what you do (that's why I'm asking these questions). What do you think of you?
I don't think about me. The only thing I ever think about is how much I love you and what great taste you have. 
How much do you earn and how much would you like to earn?
I earn enough to make me think that I should keep on doing this. I would like to earn enough to make me think that, really, I should give up and let other people have some of the money but I just don't want to.
How important is luck in terms of career success – have you had lucky breaks?
The only people who don't think luck is important are the ones who have had a ton of it. I hosted Jo Brand's book tour really early on which was a lucky break of sorts. I wasn't doing stand-up (I was interviewing her) but it gave me time on stage in front of huge audiences and a chance to watch how a true pro works a crowd. Priceless.
Alan Davies has said that comedians fall into two categories - golfers and self-harmers. The former just get on with life, the latter are tortured artists. Which are you – or do you think you fit into a third category?
I think that's astute. Although golf is itself a form of self-harm. My dad desperately wanted me to become a professional golfer. (He used to be a professional golfer.) That was never going to happen. Instead I've had enough therapy to sit uncomfortably in some kind of pointless third category where I feel really bad about not being tortured enough but not able to get on with life either.
Who is your favourite person ever and why – not including family or friends or other comedians?
At the moment it's the fashion designer Tom Ford. (I have never met him.) Because he used to take five baths a day. And now he has a small child he only takes two. I like that even Tom Ford has to drop his standards.
Do you keep your drawers tidy and if not why not? (please think long and hard about this question, it's to settle an argument with my girlfriend. The future of our relationship could depend on your response).
No, I don't because it's boring. But whatever your girlfriend says is right. Listen to your girlfriend. Heed your girlfriend. The future of your health depends on it.
Buy tickets for Margo & Friends on December 22 here.
Picture by Matt Crockett.
Pages