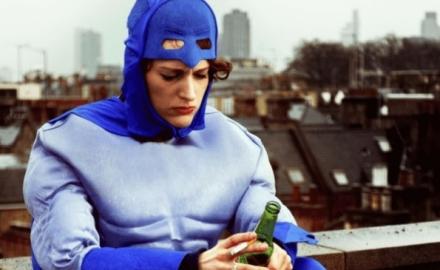 This was interesting. I've never been to a performance in a theatre that felt so much like a cross between a rock gig by your favourite band and a victory lap of honour. Having gathered various stage prizes Phoebe Waller-Bridge's play was then adapted for BBC3 and will no doubt go on to collect TV awards by the bucketload in the next few months.
The audience last night – predominantly, but certainly not exclusively, cool, young women – had probably come because they had seen the universally acclaimed screen version. But the brilliance of that does not prepare you for the brilliance of Waller-Bridge's live performance, mainly perched on a stool, except when standing up legs apart and miming taking a picture of her vagina for her boyfriend.
Sex is a theme of this funny-sad show, from her inappropriate behaviour with a bank manager to accounts of frenzied masturbation sessions, porn watching and relatively casual sex. Her ongoing relationships seem to be an on-off one with uptight Harry and a new one with a commuter with a rodent mouth. In fact rodent seems to be another motif. Fleabag runs a guinea pig-themed cafe, or at least that is what it has become. Her job and her life, however, are in chaos.
Anyone who has seen the TV version will know that there is a sadness at the heart of Fleabag that has prompted this wayward behaviour. Waller-Bridge's performance as a twentysomething in emotional freefall is pretty much spot-on. This is a solo show with a big cast. Her expressive hands, large mobile mouth and striking eyes all play their part to conjure up the dramatis personae she is talking about. One soon forgets the actors who played these parts in the TV incarnation.
Somehow the six-part series is condensed into 60 minutes. Apart from some standout scenes with her wicked stepmother memorably played against type onscreen by Olvia Colman I couldn't think of anything in the BBC3 version that wasn't referenced here, from her sister's potential job in Finland to Fleabag's wank fantasies about Obama.
I could go on about how good this is. The only trouble is that unless you already have a ticket you can't get one. Maybe next year she will be offered a shedload of money and do it again at the 02 Arena. Judging by the speed the tickets for this run sold out she could probably fill it easily. 
Fleabag is at Soho Theatre until December 16 but is completely sold out. Watch @sohotheatre on Twitter in case a few extra tickets are released.
PS: This picture comes from an early run. I don't know how Waller-Bridge performed it then, but currently she performs it in simple trousers and jersey.