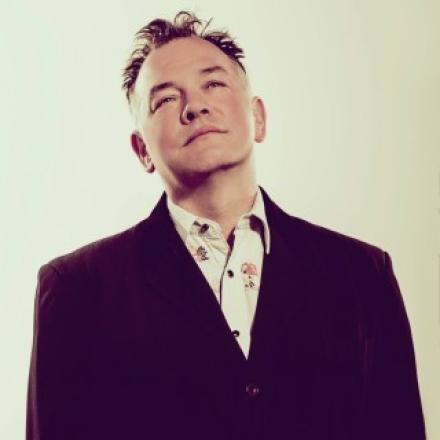 This review below first ran in the London Evening Standard here.
In a recent BTJ interview Adam Larter said that "if you think you're 'too edgy for the world' then you're probably just rubbish." Lee remains edgy but the thing about his latest show Content Provider is that it also has a lot of comic appeal. You don't have to be part of the metroplitan elite to laugh. This is a clever, smart, relevant show, but also a very, very funny show.
If everything had gone to plan Stewart Lee would be working on material for his fifth BBC2 series now. But his television show was axed this year, offering him the chance to vent his spleen unedited onstage instead. The result is a venomously funny set brimming over with bile about the state of humanity.
The surprise is that Content Provider is actually quite accessible and not all Brexit and Trump. Apart from two riffs that neatly echo each other, the controversial satirist largely steers clear of politics. His running gag is that he wanted to write something that does not date to pay his mortgage until 2018. Like everybody else he has no idea what madness Westminster and Washington has in store.
Instead his focus is on consumerism and narcissism. There is wonderfully pithy take-down of Game of Thrones which he has written without watching it. Elsewhere he exquisitely mocks Jimmy Carr's tax arrangements, nails Nigel Farage with an unspeakable image involving calfskin driving gloves and skewers tourists who post inane complaints on tripadvisor.
It is witty, wordy and well-crafted, even if at times he does come across as a scatalogical Victor Meldrew. In his most gloriously over the top set-piece he portrays the under-forties as a gormless Tinder-swiping generation bashing away aimlessly at their smartphones while the world goes to hell in a handcart.
During a reflective moment he quips that this is a "post-laughs" show for a post-fact era, yet chuckles do ripple along for most of his 90-minute performance which builds to a beautifully poetic finish. If there is a fault it is the lack of a match-winning insight. He is hardly the first commentator to bemoan our vacuous selfie culture. But he frames a familiar point magnificently.
Until December 10 then Jan 2 – 28, Leicester Square Theatre; leicestersquaretheatre.com