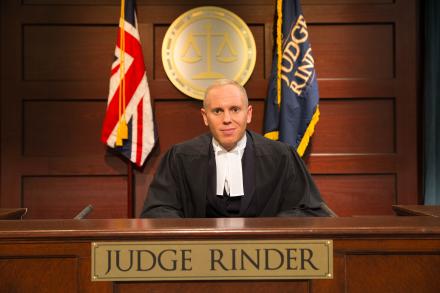 Two comedians are to appear on the ITV1 show Judge Rinder to resolve a longstanding dispute.
Bob Slayer and Josiah Norris have been filmed for the telelvision justice show. when Beyond The Joke asked for further details all that Slayer would say is "watch it Monday". Comedian Norris has rvealed more on social media: "As some of you know, I recently had a catastrophic falling-out with my old friend and ally Bob Slayer regarding a pay dispute dating back to 2012. After 4 years of refusing to pay me, we were at a deadlock. Then in stepped a celebrity judge named Robert Rinder, offering to help us resolve the issue.
The surprising and exciting case of Norris v Slayer will be broadcast on Halloween, Monday 31st, at 2pm on ITV's popular kangaroo court television programme Judge Rinder. I won't spoil what the verdict was or whether me and Bob managed to resolve our differences, but I hope you'll all tune in to find out."
The Slayer/Norris courtroom face-off will be broadcast on Monday October 31 at 2pm.