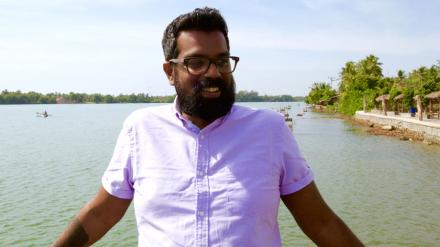 His previous career taught him to hold a tough crowd's attention: "When I did my first gig I was nervous, but not about talking to people, just about being crap." He did have previous stage experience. He admits to an early stand-up set while staying at a holiday camp aged nine doing jokes from a joke book. In his twenties he used to enter rap battles calling himself Ranga The Lazy-Eyed Assassin.
In person Ranganathan actually smiles a lot and seems friendly and positive. Maybe I caught him on a good day. He says that his tetchy onscreen persona is not put on. "Being cynical is how I think. It's not like I have to put myself into that as a comedy mindset, that is my natural approach to things. I always see the shitty side. I look at things through that filter and put it into stand up."
Digging deeper there may be a reason for this outlook and his work ethic. His family was comfortably off when he was young. His father originally had a job in finance, but then life became tough as he was reaching his teens. "The house was repossessed, we had to be put into a council B&B, I had to change schools* and my parents temporarily separated all within the space of a year. I was angry with my dad when I saw my mum struggling. Eventually they got back together and circumstances improved. But I sometimes wonder that if that hadn't happened I don't think I'd be doing comedy."
Anyone who has seen his Bafta-nominated series Asian Provocateur will have seen his cynicism in full comic effect as he visited his relatives in Sri Lanka. The series started with his mother Shanthi telling him to connect with his roots because he was "a coconut" - brown on the outside but white on the inside. He went on religious pilgrimages, had an enema and at one point reluctantly tried stilt fishing in the sea only to climb down in a huff when he had not caught anything.
Shanthi only appeared briefly but turned out to be a TV natural. A sequel is now being made in which they go to America together. They make a great double act, visiting long-lost relations with a bit of Michael Palin travelogue lobbed in for good measure. "She can't believe there is a TV show about us, it blows her mind."
Things are clearly working out, which maybe explains the current good mood. Yet having seen his late father go through hard times he is keenly aware that success can be transient: "I just think I got lucky. I'm really grateful I'm doing so well, but I'd be loathe to use that as any proof that next year it won't all go away…" His pessimism is uncalled for. Success might have come almost overnight but it is unlikely to disappear as quickly when you are this talented.
Romesh Ranganathan is currently on tour. Details here. Irrational is available on DVD and Digital Download from 21st November. Asian Provocateur is on BBC iPlayer.
*He was a pupil at Hazelwick School in Crawley, the same school as Gareth Southgate.
Pages