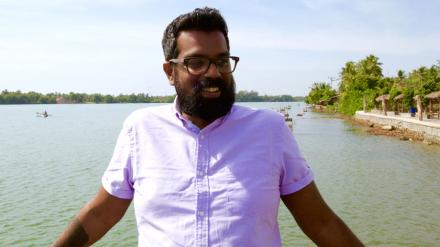 Here's an interview I did with Romesh Ranganathan for the Evening Standard. Despite what he might seem like onscreen in the flesh Ranganathan is a lovely bloke and easy to chat to. Which is not to say that his perma-grumpy persona on Asian Provocateur is faked. I'm sure he has his bad days like the rest of us. Except that unlike the rest of us when he has a bad day he is very, very funny. 
There is no such thing as an overnight success in comedy, but Romesh Ranganathan comes close. Three years ago the former maths teacher was almost broke and considering giving up. Today he is positively ubiquitous.
The 38-year-old has become one of the most familiar funny faces on our screens, turning irritation into an artform. As well as appearing on a plethora of panel shows he has fronted his own series Asian Provocateur and even appeared on Question Time. And he is about to resume a tour that has been extended due to exceptional demand to include four nights at Hammersmith's Eventim Apollo, one of which is being recorded for DVD release. The show finds him on terrifically intolerant form, fuming about topics as diverse as the size of cinema popcorn portions to how his second of three small sons has become "feral".
So where did it all go right? Stroking his thick black beard in his agent's office in Clerkenwell the Crawley-based comedian reflects on the dramatic turnaround in his fortunes. "I'd handed in my notice at school to do stand-up full-time but I wasn't making it. Then a couple of days before I left my job my dad had a heart attack and died in the middle of the night. My brother found him on the sofa. Dad ran a pub, the Prince of Wales in East Grinstead, so my brother and I temporarily took it over and I took my eye off the ball. After a while we couldn't pay the bills and I had a young family to feed."
As one last throw of the dice Ranganathan took every gig going. His supportive wife Lisa used to sit at the back with their youngest son asleep in his car seat. "If she had said go back to teaching I would have, but she didn't so I owed it to her to work as hard as possible." Suddenly everything clicked. Fellow Sussex-based comedian Seann Walsh asked him to write for him and then Walsh's management saw him do a gig and got him onto Live at the Apollo where he made an immediate impact. He has not looked back. "I was just in the right place at the right time," he says modestly.
Ranganathan has embraced his opportunities and has no regrets about appearing on Question Time even though fellow guest Nigel Farage clapped him when he said that uncontrolled immigration was a bad thing. "I know Nigel Farage applauding will come back to haunt me, but doing the show was everything I hoped it would be. When I got the call I felt if they think I can do it I must be able to. The dilemma was that if you are serious they think 'call yourself a comedian?' and if you make jokes they think you are not taking the subject seriously."
He was an assured member of the panel, elaborating on his point to make it clear he was no UKIP apologist. Teaching sixth formers was good training for both public speaking and appearing on political programmes. He looks back on his classroom days fondly. Given his combative style now he was a surprisingly benign back then. "I can't remember ever losing my temper or raising my voice."
Interview continues here.