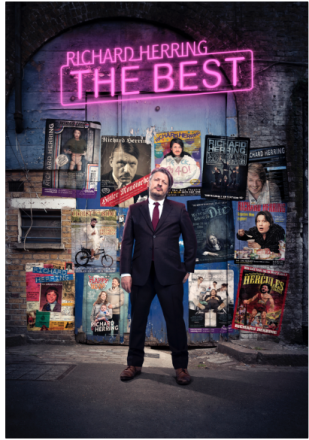 Podcasting pioneer Richard Herring has confirmed dates for a new UK tour.
'The Best' will feature his favourite routines from the twelve one-man shows that he has written and performed over the last 15 years. The tour starts in Sheffield on 6th October and includes three nights at London's Leicester Square Theatre from 16th – 18th February.
Herring has appeared at nearly every Edinburgh Festival Fringe since 1987. His solo shows include Happy Now?, Lord of the Dance Settee, We're All Going to Die, Talking Cock, What Is Love, Anyway, Christ on a Bike, Hitler Moustache, The Headmaster's Son, Oh Fuck, I'm 40!, Ménage á Un,  Someone Likes Yoghurt and The Twelve Tasks of Hercules Terrace.
His Leicester Square Theatre Podcast has seen him interview some of the biggest names in the world of comedy and beyond including Stephen Fry, russell Brand and Tim Minchin. The show is the only non-BBC show to ever win a Sony Best Comedy Award. He also writes a weekly column for the Metro, is working on a brand new sitcom called Relativity for BBC Radio 4, and has a script in development with Channel 4.
For full tour dates click here.