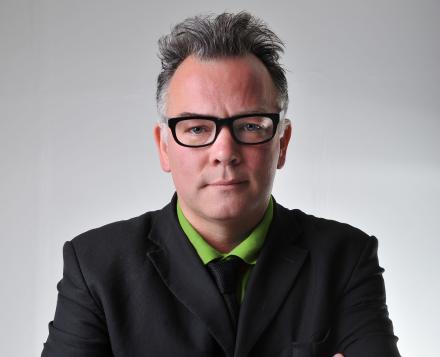 Writer Alan Moore has revealed that Stewart Lee phoned him up in the hope that Moore would cheer him up after the Referendum.
In a major interview with journalist Dominic Wells coinciding with the publication of his new book Jerusalem, Moore recalled Lee contacting him following the Brexit result.
"One of the things that upset me most about the referendum is that Stewart Lee, the comedian who I think is the funniest man in the world, phoned me up two days later seeking reassurance and cheering up, " Moore told Wells. "And I thought, 'Oh fuck. Stewart Lee is phoning me, with all my dystopian misery, because he wants cheering up!'
Moore also revealed how Lee had already spoken to Chris Morris about the situation. "He told me that he already phoned Chris Morris and that Morris had said that he was practically terrified… that he looked out of his window, and he saw a wood pigeon, pecking about on his lawn, and thought, 'That wood pigeon does not, and will never understand that we are withdrawing from the European Union.' And he says: 'And I took comfort in that.' That is the most worrying moment, when you've got the best satirical comedian phoning you up for reassurance."
Read the full interview with Alan Moore here. There will also be daily excerpts from the full transcript published on the same website.