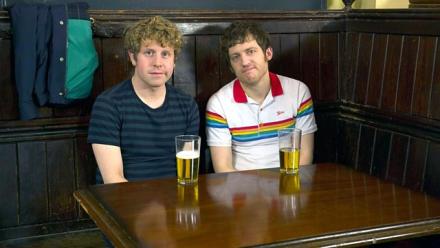 Josh Widdicombe recently cropped up in a BBC documentary about sitcoms saying how much he loved the genre. And he clearly adores the classics because the second series of his flatshare sitcom seems to be channelling a number of milestone comedies from the past four decades.
In the first episode there were hints of everything from Whatever Happened To The Likely Lads? and Men Behaving Badly to Seinfeld. Josh has split up with his girlfriend but flatmat Owen has a solution - he is dating a cougar and she has a friend for Josh. Meanwhile fellow flatmate Kate hits "reply all" by mistake and upsets their landlord Geoff (Jack Dee) so has to win him over.
So far so corny then. The good news is that while Josh is not exactly a classic yet, it does features plenty of gags. I've even found myself using Josh's regular exasperated line "what does that even mean?" so it must be doing something right.
As has previously been noted the plotting and set-up has echoes of Seinfeld, but it is definitely not a carbon copy. It is interesting that unlike the iconic US show Josh is not filmed in front of an audience. It's very broad and sometimes it feels strange that lines that deserve a laugh are not followed by a studio laugh. I guess you have to provide that yourself. 
There are a few things that trouble me though. I know it is hard to find decent accommodation in London but if my landlord came round as much as Geoff I'd be looking for a new place pronto. And this episode ends with the kind of showdown you wouldn't normally see outside a West End farce. 
But having said that it is very enjoyable. The story, written by Widdicombe, Tom Craine and Simon Mayhew-Archer with contributions from the others and director Dave Schneider, has a brisk rhythm to it as Josh suddenly finds himself living life in the sexual fast lane when all he wants to do is stay in and watch Take Me Out. 
Oh, and football fans will particularly enjoy the sporting references. I was delighted to discover that Teddy Sheringham was the oldest outfield Premier League player at 40 years, 272 days. That was the biggest surprise of this show that hardly breaks down barriers but certainly offers giggles, amusement and fascinating footie trivia.  
Josh is available on iPlayer here.