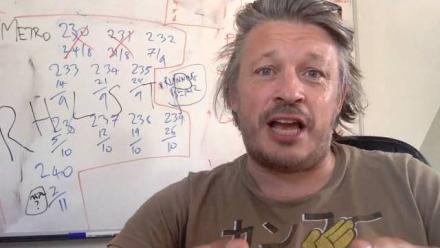 Comedian Richard Herring has launched a new Kickstarter campaign.
This is to raise the money to film series 9 & 10 of Richard Herring's Leicester Square Theatre Podcast, or RHLSTP as it is called in certain circles. The money is needed to film another 18 episodes in 2016, making a total of 34 interviews this year. A previous successful campaign funded series 8. Once filmed the episodes can be watched for free via YouTube, etc. His most recent episode, with Sofie Hagen, features a section discussing the royal family which consists largely of hilariously extended bleeps in case it is libellous. Another recent episode features an illuminating interview with Graham Linehan about the sitcom-writing business and much more.
Herring is aiming to raise £70,000. If he doesn't reach his target the episodes will not be filmed but they will all still be available on free audio download.
At the time of writing he has raised £18,845 from 530 backers and has 27 days to go.
It's a great series and as I wrote above, it is free to view and Herring doesn't make any money, the Kickstarter money merely covers filming costs. To make a pledge or to find out what rewards you can get for your pledges click here.
Watch Herring's short film about the campaign below.