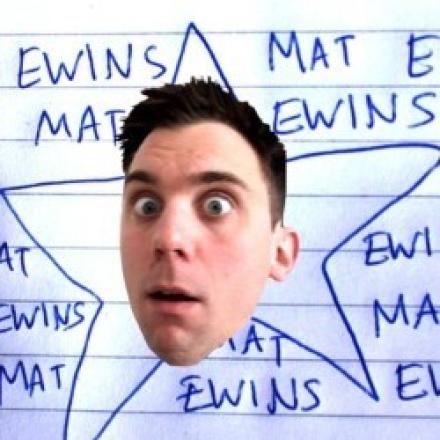 There are always a few shows that can get overlooked in Edinburgh so I'm eternally grateful to my colleague Dominic Maxwell, who on my last day at the Fringe pointed me in the direction of a show that is totally dotty and deranged but also deceptively well-crafted.
In Mat Ewins Will Make You A Star our geeky guide offers advice on cracking cinematic fame and also gets a couple of audience members up to put them in the picture literally. A lot of the best gags in this show appear on the screen. With the aid of a camera gizmo Ewins super-imposes (or whatever the technical term is) punters into famous film scenes.
Despite some neat callbacks these immersive skits don't work quite as well though as the pre-prepared footage in which Ewins himself turns out to have had cameos in some unlikely cinema classics. There is also plenty of ridiculously funny original footage featuring mates such as Richard Gadd and John Kearns - as Ewins wryly pointed out without a hint of bitterness, his supporting cast seems to be more successful on the Fringe than he is.
Ewins himself is a naturally funny man. He's a little goggle-eyed like Stephen Merchant and has enough manic energy to power most of Edinburgh. For some reason that was never fully explained on the night I was in he appeared to be wearing some kind of black snood. His rapidfire style is quite similar to Adam Hess, who, I think, also cropped up heavily disguised in one of Ewins' customised clips.
As I suggested, this is a gloriously stupid show that in some ways feels haphazard but, like an episode of the Simpsons, is intricately plotted for full laughter value. As well as the big laughs there are lots of subtle blink-or-miss-them gags, such as the page of bogus classified ads that pop up onscreen when Ewins talks about flathunting in Los Angeles. The still frame stays up on the screen just long enough for the extra jokes to get through. 
He could do with dialling down the nervous energy at times - and don't namecheck the critic who is in, nobody but you and the critic cares - but then maybe something would be lost if he was more sensible. Ewins seems like the classic dysfunctional nerd who has spent far too much time in his bedroom fiddling on his laptop. It's great that he has also found the time to fiddle with it onstage. Let's hope this show has some legs and is performed beyond the Fringe.
At Soho Theatre 6 - 8 Feb, 2017. Tickets here.
****