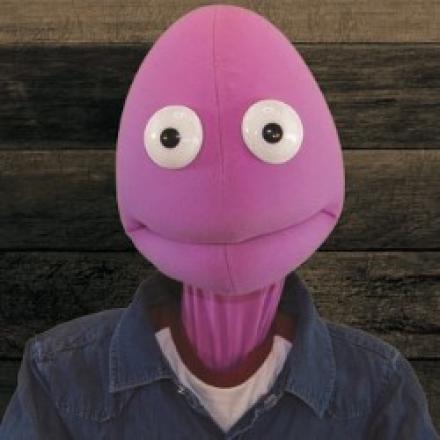 I've previously only ever seen purple puppet Randy with his double act partner Sammy J. But he has performed solo in the past and this year's show, Randy Writes A Novel, finds him on his own again, a wannabe author who wants to test out his new manuscript on us.
Except that he is too nervous about his work to read his manuscript. Every time he shuffles the papers - very funnily - and takes a deep breath he distracts himself with an anecdote. There is some chat about To Kill A Mockingbird writer Harper Lee, a lengthy yarn about a recent Gumtree purchase and, best of all, a breakneck biography of his hero Ernest Hemingway, taking in various shootings, various wives and a few books too.
There is also room for a few corny gags - "How do you know if someone's vegan? Don't worry, they'll tell you." If a stand-up told this they would be marched out of the room but as you don't often hear puppets telling it it somehow feels fresh rather than hack.
Of course while Randy is the nominal star, managing to be lovable even when being smutty or angry, the real star is Heath McIvor who is under the desk controlling things. While much of the show is tightly scripted McIvor pulls off the remarkable trick of being able to ad lib with members of the audience even when he can't see them. There is an added laugh whenever Randy's button eyes try to pin them down. At point point McIvor heard someone walking out and not knowing what was going on managed to come up with some brilliant impro to cover his confusion.
So while Sammy J might be absent this time round, this is still really a double act, with Randy's eerily expressive face and hands linking up with McIvor's lightning quick wit and equally fast wrists. Cynical adults might be put off by the puppetry thinking it is for kids, but that's their loss. We never do get to hear the novel but when the digressions are this funny it hardly matters. 
Until Aug 29. Tickets here. More tour dates here.
****