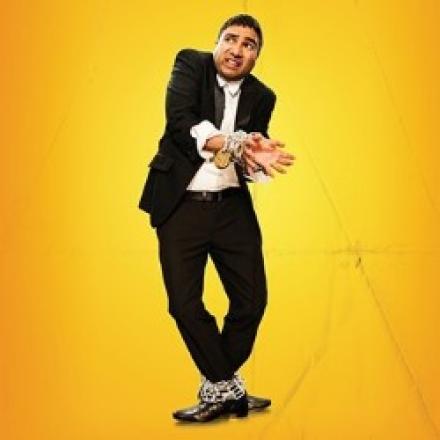 If you want to see a show that is sheer fun from start to finish you can't go far wrong with Mr Swallow - Houdini. In fact it is better than that. As well as a fun comedy show you also get a magic show thrown in for no extra charge.
Live comedy fans will recognise Nick Mohammed as Mr Swallow, the deluded, squeaky-voiced wannabe superstar who a couple of years ago staged a musical version of Dracula on the Fringe. That show was more of a conventional send-up of West End musicals, Houdini is slightly more scattershot. We don't quite get to know as much of the back story, we just have to sit back and relish the performance.
And there is much to relish here. Swallow is joined, as before, by his two trusty assistants played by David Elms and Kieran Hodgson as he recreates some classic moments in the career of the master magician. They also join in for some very catchy song and dance numbers which give the piece even more oomph.
But it is the diminutive Swallow who dominates. He is a terrific high energy comic character who is easily distracted to superb comic effect. His lines are written with perfect precision and delivered impeccably. Who'd have ever thought saying "I could murder a Schloer" would ever be so funny?
And his tricks are great too, whether freeing himself from a straightjacket or, at the end, getting out of a locked tank of water (after first getting considerable comic mileage by just sticking his finger in the water as it was filling up). There is a problem with the internal logic here - if Swallow is so hapless how can he recreate these historic set-pieces so well? But I was laughing so hard at the time this only occurred to me afterwards.
This really feels like a show for anyone who likes comedy, but I should conclude with a note of warning. I have encountered two people who didn't find this funny. One was a punter, one was a critic. While they are of course entitled to their opinions, I presume neither of them have a sense of humour. Don't think too hard, just enjoy the squeaky-voiced whizz bang excitement of the pure escapist jollity onstage. 
Until Aug 28. Tickets here.
****