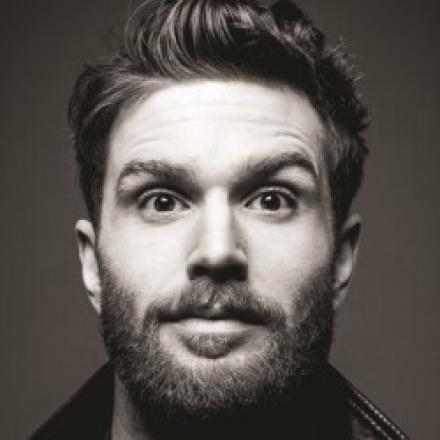 Joel Dommett is certainly well-connected in the comedy world and beyond. His big production value filmed opening includes cameos from Nish Kumar, James Acaster and even a reality TV star. It's a distinctive, energetic start to a show that doesn't break any artistic boundaries but is never less than entertaining.
In his leather biker jacket and beard Dommett looks like a cross between George Michael and Andrew Ridgeley and there is something of the showbiz entertainer about him as he tells stories about his life which may or may not be true. Though I'm not sure if anyone in Wham ever tried to make themselves look cool onstage without breaking the smoking ban by pretending a breadstick was a cigar.
It would spoil to show to give away too much but one strand of the show one involves Dommett being involved in a celebrity scandal. Needless to say on the one hand he was upset about the sting, on the other he was flattered to be considered a celebrity.
Elsewhere there are lots of nice touches delivered with slightly camp gusto. It was a bit of a comedy in-joke but I liked the way he acted out the joy of delivering a punchline without even telling the rest of the set-up. And he had a nice story about mic drops despite it being so long I'd momentarily forgotten it was about mic drops when he reached the crucial mic drop moment.
I could have done without his song about his penis being like a laser but that may just have been because his laser (not his penis) went in my eye and I had a headache for a while. His riff about the difference between waking up in movies and in real-life has a lovely pay-off though I've seen him tell it better on bigger stages, which maybe bodes well for the future. He's got the looks, he's mostly got the jokes even if some aren't entirely original. He just needs to keep his laser dick in his jeans and stardom alongside his comedy chums beckons. 
Joel Dommett is here until Aug 27. Tickets here.
****