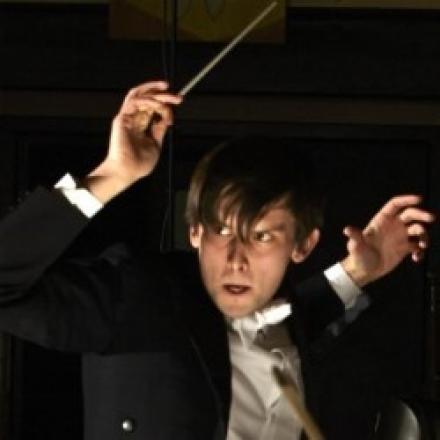 Reviewed by Claire Smith.
After playing his audience into the room with a violin solo Kieran Hodgson celebrates his obsessions in this brilliantly funny and skilful hour.   
He's written a symphony to accompany his show Maestro, which tells the story of his life, discusses his obsession with Mahler and explains the importance of following the rules on public transport.
Hodgson's story of growing up and looking for love follows the emotional narrative arc of the symphony, he explains, in numerous erudite asides. Mahler himself appears as a kind of chorus, played by a bewildering range of famous actors.
The 2015 Edinburgh Comedy Award nominee has made his young self an absurdly serious little geek - who somehow manages to be likeable despite being on his own weird planet. You genuinely wonder how this profoundly odd child can possibly make his way in the world - even though he seems to be blessed with ridiculous self confidence and certainty.
Hodgson, who is a magically talented mimic, plays all the other characters in his life as well -  adding a touch of surrealism to his childhood crush, his teachers and his adolescent friends. His crazy French quasi-girlfriend, with her drawl, her cigarettes and her dubious morality is a particular high spot.
There's also a brilliantly funny argument between the young Mahler-obsessed Hodgson and a classical FM presenter who insists on playing wall-to-wall smooth music and is fixated on Rachmaninov.
Towards the end, gradually, imperceptibly, young Hodgson starts to become an adult. There's a slow reveal, which changes our understanding of what is really going on.
This weird geeky kid begins to seem a hero for holding onto his aspirations and his principles. And there is a life-affirming sense of triumph when finally, he begins to find other people who live on the same planet he does.
The show moves towards a surprisingly emotional and moving conclusion. Singular, original, peculiar but wonderful in his own way - as we all are -  Kieran Hodgson has finally found his place in the world.
And you can't help but feel happy for him.
Until Aug 28. Info here.
Claire Smith writes for The Scotsman and is one of the judges of this year's lastminute.com Edinburgh Comedy Awards.
****