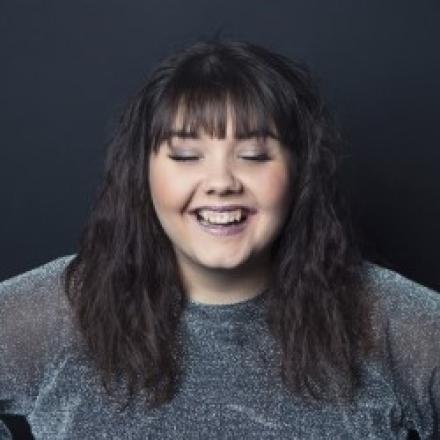 Reviewed by Claire Smith.
Something is going very right for Sofie Hagen.
Last year's Edinburgh Comedy Award Best Newcomer winner is still playing the Free Fringe but she's filling this huge venue in a hollowed out nightclub.
There are people on seats, people sitting up the stairwell and people lining the walls. And there is a real rock star buzz going on, with indie comedy kids mixing with Old Town tourists and industry people.
Hagen greets everyone at the door with a massive sunny smile. And she's thoroughly at home from the moment she steps onto the stage.
In front of a painted fairytale backdrop she tells us a geeky love story, set in a world of social anxiety.
Hagen, who speaks in a lovely lilting Danish voice, has been awkward around people ever since she was a tiny tot, painting herself green in the back garden. She has pictures to prove it.
"There are too many people", she told her loving, supportive single mother when she was seven. And she still feels the same way now, miserable at parties, terrible at small talk, absurdly awkward at romance.
We already know there's a happy ending of sorts. Hagen found a place where she feels comfortable in stand-up and has learned to mine her social awkwardness brilliantly and use it to provoke big, happy laughs. 
Although her world view is rather singular, there is much here with which everyone can identify. Hagen speaks to the scared geek in all of us and the laughter rolling around the room is the laughter of recognition.
Hagen's single minded pursuit of love might lead her into some incredibly uncomfortable moments, but her determination to look her fears in the face is truly inspirational.
Her show ends, unexpectedly, on a reveal which made me burst into tears.
It made me wish I was twenty years old again and could hear Hagen talking about life, love and happiness in her lovely sing song voice. She makes you laugh at anxiety and shows you why it can be great to be a geek. Today's stand up comedy fan kids are lucky to have her. She makes the world a less scary place.
Until August 28. Info here.
Claire Smith writes for The Scotsman and is one of the judges of this year's lastminute.com Edinburgh Comedy Awards.
****