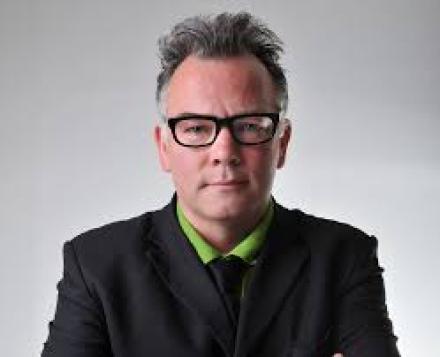 Starting at 6pm on Monday 8 August, and continuing 24/7 until they reach the end, a host of Edinburgh Fringe performers, writers, and politicians plus members of the public will stage a nonstop, out loud, live streamed reading of the recently published Chilcot Report, in its 2.6 million word entirety.
Ian Rankin, Tommy Sheppard MP, Stewart Lee, Reg D Hunter, Arthur Smith, Francesca Martinez, Seann Walsh, Jo Caulfield, Simon Munnery, Tony Law, Ed Gamble, Stephen Frost, Michael Legge, Howard Read, Andy Askins, Andy Smart and many others have volunteered to take part. The organisers have launched an appeal for more readers to sign up via iraqoutloud.com.
Iraq Out & Loud is being organised by Fringe veterans Bob Slayer and Omid Djalili, and aims to bring the Fringe's creative community and international audience together to discuss and reflect on the conflict and the UK's role in it. At an approximate rate of 120 words per minute the reading is predicted to take over two weeks to complete.
Iraq Out & Loud will take place in a garden shed, beside Bob Slayer's Blundabus on South College Street, with two readers each hour.  Tickets to be part of the small live audience in the shed go on sale on Monday 25th July, with four seats allocated per hour. Audience members also have the opportunity to take part in the live streamed reading.
Stewart Lee said: "I like the length of the Chilcot Report, but am disappointed by the variety of content..."
Ian Rankin said: "I was on my holidays when the Chilcot Report was published, so this is my best chance to get to read at least some of it. It's either that or wait for the film."
Omid Djalili said: "Has there ever been a more current and brilliant Edinburgh Fringe Festival idea?"
Tommy Sheppard MP said he was: "Delighted to do my part in drawing attention to this damning indictment of Tony Blair's government - pretty much every British military intervention he sanctioned made a bad situation worse."
Bob Slayer said: "Producing this is going to be a truly mammoth undertaking, however I know I would totally regret not doing it much more than actually doing it..."
A Gofundme appeal has been set up to cover out of pocket costs for staging the reading, any additional money raised will be donated to the International Rescue Committee, which provides aid to refugees and victims of armed conflict around the world.