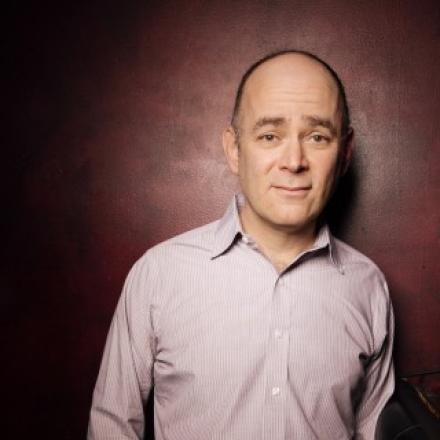 Todd Barry sets out his sardonic stall with his own offstage intro. He explains that he wanted Jimmy Carr to open for him but Carr wanted £450,000. Others also wanted big money. The Smiths wanted four tickets on the guest list.
It's all delivered in a deadpan drawl that continues when he explains the concept of his improvised, scriptless show Crowd Work after strolling on. He points out that the Guardian wrote a nice piece about him recently and said that his banter is very different to "Where are you from, what do you do?" They were wrong, says Barry. That's all he does. How else are you going to get a conversation with strangers going? 
Over the next sublime hour that's exactly what he does, working his way along the front row and peppering his banter with delicious sarcasm. Spotting a bald man he witheringly asks "are you a hair stylist?" It may not seem profoundly witty in print, but, trust me, in the hands of this master it is.
While there is clearly pressure on him to deliver off the cuff he also puts pressure on his fans to tell him stories. It's a bit rich for him to complain when they don't have the goods. They came to be entertained, not do the entertaining. And they certainly were entertained. There are no bells and whistles to Barry's style. It is vehemently downbeat, but in a way that has you hanging on every word. 
One woman did have a yarn that generated almost as many laughs as Barry. It was something to do with doing the publicity for a chocolate product where people had to send in photos and one sent in a picture of the chocolate product up his arse. I'm being vague in case this is libellous, but also because one of the snags about such a slow-burn lo-fi show is that if you are perched at the back like I was you can't necessarily hear everything the audience says. Sit closer to the front. And have a good story just in case.
If there is a fault here, apart from amplification, it is that the show never quite builds. It starts on an interesting note and then simply stays there. After sixty minutes Barry glanced at his watch and realised that his time was up and he needed a big laugh to leave on. He found a few with a bearded woodland manager, but you kind of think Barry is so sharp that he could get a big laugh with something much more mundane. Recommended. 
Until June 18. Tickets here.
Read an interview with Todd Barry here.