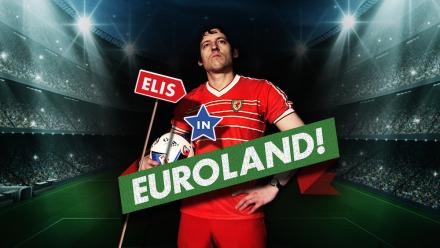 Comedian, radio presenter and obsessive Welsh football fan Elis James is to front a series of digital comedy shorts for Euro 2016, Elis In Euroland will see the comic travel to France to follow the Welsh national team on their journey and will offer a fans' eye view of Euro 2016 as it unfolds.
In the series James champions Gareth Bales as Wales' all-time greatest player: "The only other Welsh footballer, arguably, on a par with Gareth is John Charles," says Elis.
He heaps praise on Welsh stars from previous years, such as Ian Rush, Mark Hughes and Ryan Giggs, but jokes that Bale is different because he's excelling at a time "where absolutely no defenders smoke".
The short reports will be available on BBC Wales social media accounts including BBC Wales Sport on Facebook and @BBCWales on Twitter. The hashtag #ElisInEuroland will ensure users can easily find the content.
The co-star of BBC3 sitcom Josh has become well known as a supporter of the Welsh football team, particularly after a drunken tweet he sent after a qualifier in Cyprus last year went viral. James jokes that "the BBC saw this and, in their wisdom, thought 'we want a piece of him'".
Elis in Euroland will launch midday on Friday (May 27), with Elis sharing his excitement about Wales qualifying for the Euros. He will also cover topics such as Bobby Gould's foray into kit design, and the passion and pain endured as a Welsh football fan over the past 58 years.  
He adds, "Euro 2016 is as much a venture into the unknown for fans as it is for the players. I'm more nervous though, because I'm older than them so have wanted it for longer!"
Watch the latest clip here.