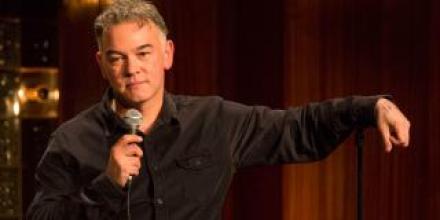 Stewart Lee's Comedy Vehicle has not been recommissioned by the BBC.
Lee broke the news in his newsletter as follows: "On May 5th BBC Comedy told me they won't be making a series 5 of SLCV, and I am grateful for a quick answer. Viewing figures remained just under 1m, including i-player, which is good apparently as most are falling, reviews were mainly very good, and personal feedback from viewers was great. But BBC2 has a substantial funding cut to deal with and I'm told the comedy dept is going to concentrate on scripted comedy. All the other stand-up on TV is made by the Entertainment dept which, I am sure you will agree, isn't me."
He went on to write: "I am really glad to have produced 12 hours of stand-up with an old school 20th century BBC logo on it. The team I got to work with were all superb, including Richard Webb, Chris Morris, Armando Iannucci, Tim Kirkby and regular cast members Kevin Eldon, Paul Putner and Tara Flynn. And the last episode of SLCV4 was my favourite of the 24 we made over the ten years. Looking around The Machynlleth Comedy Festival last weekend I realised how lucky I had been to be the comedian that got to do four series like this."
Lee had recently announced dates for his lengthy 'Content Provider' tour, which would probably have generated material for a fifth series of Comedy Vehicle. The live dates will still go ahead and Lee writes that it "will now become a proper big-ideas piece of work". There will also be a book of the annotated texts of the first four series. The fourth series will be released on DVD in the autumn for anyone that still buys DVDs by then.
Read reviews of the last series here.