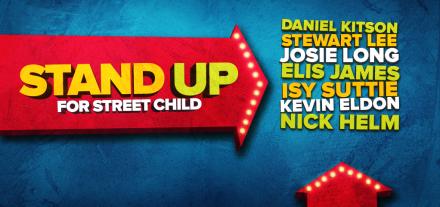 I don't know how this upcoming unmissable gig passed me by until now.
The line-up for Stand Up For Street Child on May 9 at the Cambridge Theatre reads like a class register of some of my favourites acts. If you've got shred of comedy taste they should be some of your favourites too. Daniel Kitson, Stewart Lee, Josie Long, Elis James, Isy Suttie, Kevin Eldon and Nick Helm barely need an introduction, but here you go.
Stewart Lee has just finished the latest run of his BBC2 series Comedy Vehicle but he won't necessarily be doing his greates hits as he is already working on his next live show, Content Provider. A top comic at the very top of his game.
Josie Long has also been busy recently. Her excellent Glasgow-based Radio 4 series Romance & Adventure has just finished, but you can still catch it here. 
Elis James is a fine Welsh comedian who is best known at the moment as a DJ on Radio X with John Robins and has a big tour coming up with Robins. He also stars in the BBC3 sitcom Josh with Josh Widdicombe
Isy Suttie had a book out earlier this year, The Actual One, looking back at her life and how she has managed to avoid becoming a proper adult. She is a terrific writer – and a terrific storyteller and singer and purveyor of funny voices onstage. 
Kevin Eldon is simply a legend, a comedy Zelig who has appeared in all the great TV shows and made arguably the best sketch ever.
Nick Helm is a monstrous live act. If you've seen him on BBC3's Uncle forget that. Just go and see him in the sweaty flesh.
Daniel Kitson really does need no introduction.
Get Your Tickets here.