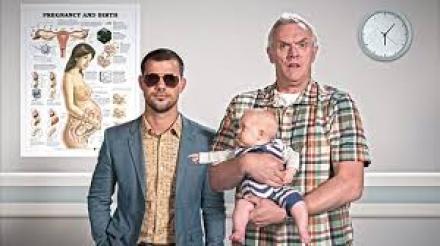 So welcome to the brave new world of BBC Three online. Except that maybe it is not quite as brave or new as expected. Hit sitcom Cuckoo is back for a third series of comic family chaos in Lichfield and, apart from needing broadband to watch it, not much has changed.
Anyway, never mind getting your head around online BBC channels, the other thing you need to get your head round is the plot-line. While watching Cuckoo I got sidetracked trying to explain to a friend the domestic set-up and how Rachel Thompson (Esther Smith) is apparently Dale Ashbrick's (Taylor Lautner) stepmother (I think), although they did sleep together in the last series. (What is it with BBC and complicated relationships - Happy Valley should also come with a free family tree).
For the first episode, however, you don't have to worry too much about the tangled sexual web being woven. The main storyline is mum Lorna Thompson (Helen Baxendale) giving birth to a third baby. Is hubby Ken (Greg Davies) prepared to be a modern man and take paternity leave? Like hell he is, but at his law firm's next meeting he is somehow railroaded into it.
Inevitably the real comedy happens at the hospital when Lorna goes into labour and Ken can't find the right ward. In fact Ken can't really do anything right. Though luckily not doing anything right is Greg Davies' strong point. He is a bit more together here than in C4's Man Down, but not that much more together.
In the end of course, things work out and everyone has a smile on their face, even Lorna, despite the horrific pain of childbirth. It's strange that this is on BBC Three because if anything it seems toned down after the first two series. The warm script, by Robin French and Kieron Quirke, doesn't feel particularly youthy or edgy. But it is funny. It really could quite easily be on BBC One. And in fact it is. If you can't get your head around online TV it's on BBC One on Mondays at 10.45pm.
Watch here. New episodes released on iPlayer on Tuesdays. Also on BBC1, Mondays, 10.45pm.