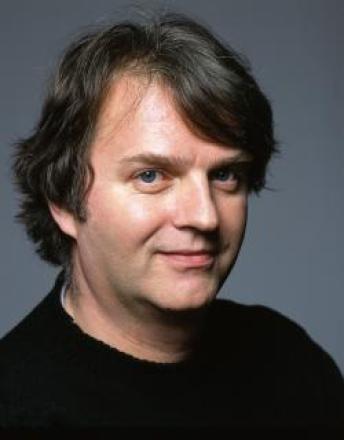 Comedian Paul Merton will clock up 347 episodes on Radio 4's Just A Minute in the first episode of the new series, overtaking the legendary Kenneth Williams and becoming the second most featured panellist on the show. The episode goes out on February 22 at 6.30pm.
Merton says: "Having overtaken Kenneth William's total number of appearances on Just A Minute I would like to say without hesitation, deviation or repetition that I am amazed, astonished, thrilled, seasick and severely gobsmacked."
Clement Freud, who appeared regularly in the series from the very first episode in 1967 until his death in 2009 retains top position with 544 episodes to his name.  It will take a while for anyone to catch up with him as that is a whole 32 series worth of appearances.
Sioned Wiliam, Radio 4 Commissioning Editor for Comedy, says: "Paul has well and truly joined the pantheon of the all-time great players of Just A Minute with his brilliant flights of fancy and sparkling wit. And it will only take him another decade to overtake the phenomenon that was Clement Freud..."
Nicholas Parsons says: "Paul Merton is one of the outstanding players of Just A Minute. Since his first appearance in 1989, he has been consistently amusing, clever and witty at playing this amazingly difficult game. He is also a very generous player. He is more concerned with contributing and making sure we have a good show than striving to win and impose his personality on the programme – though he does frequently finish up with the most points! His occasional verbal excursions when he takes a subject into the realms of fantasy are delightfully surreal moments in the show. His contribution over the years has been consistent and amazing and it is always a pleasure when he is part of the team. He deserves the record he has achieved and long may he be around to improve on it and give more pleasure to the thousands who tune in regularly to hear him playing Just A Minute".
This is the programme's 74th series, and episode one will be the 865th, but the rules remain the same: the contestants are challenged to speak for one minute without hesitation, deviation or repetition on any subject that comes up on the cards.
Kenneth Williams was a stalwart of the programme and appeared 346 times over the course of 20 years (1968 – 1988). With his death there was a fear that the show would fade with him, but this wasn't to be the case as new comedians stepped in to continue the show's popularity, including Julian Clary, Stephen Fry, Graham Norton, Jenny Éclair, Sue Perkins, Ross Noble and Paul Merton.