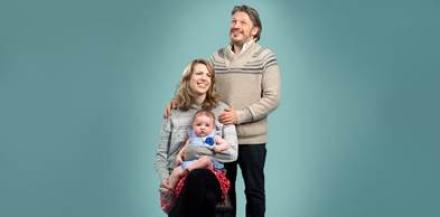 After years of drifting aimlessly and alone, Richard Herring is now settled with a wife and a tiny baby. Is he finally Happy Now? Or does responsibility for the lives of others come with its own terrors? In his twelfth solo stand up show, Herring examines whether we can ever hope to be or are meant to be truly content. If we were never unhappy would happiness have any meaning? Why do our brains force us to envision the worst possible outcomes even on a day when everything seems fine? Does being happy mean a comedian loses his edge and true belly laughs only come from depression? Is there any system that will guarantee us eternal bliss or should we just embrace the fact that life is a vale of tears and our only option is to laugh in its face?
Happy Now? premiered in September 2015 when Herring completed the mammoth task of performing each of his previous eleven stand-up shows over eleven evenings, before debuting Happy Now? on the final night.
Richard Herring has enjoyed phenomenal success as a writer and performer and is an innovator in the world of podcasts. As well as touring Happy Now? in 2016, the show will also be released on DVD.
His Leicester Square Theatre Podcast has seen him interview top comedians in front of a live audience. Previous guests include Stephen Fry, Simon Pegg, Armando Ianucci, Russell Brand, Stephen Merchant, Steve Coogan, Tim Minchin, David Mitchell and Stewart Lee. 
He writes a weekly column for the Metro newspaper and has a script in development with C4. He has appeared as a guest on shows including Alan Davies As Yet Untitled (Dave), Pointless – Celebrities (BBC One), Argumental (Dave), Set List (Sky Atlantic), Have I Got News For You (BBC One) and Never Mind the Buzzcocks (BBC2). He also wrote and performed two series of Richard Herring's Objective for BBC Radio 4.
With Al Murray, Richard devised and wrote 37 episodes of the sitcom Time Gentlemen Please (Sky One/Paramount) for Al's alter ego The Pub Landlord. Richard also wrote and starred in the comedy drama You Can Choose Your Friends (ITV1).
For dates click here.