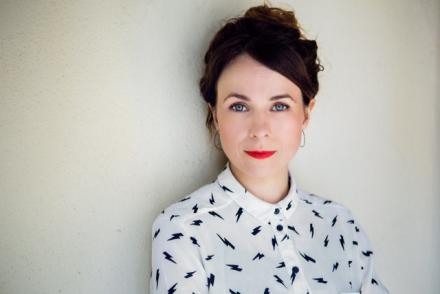 Cariad Lloyd was nominated for a Foster's Best Newcomer Award in 2011 and since then has also made a name for herself on the live scene, most notably with Austentatious, the highly skilled troupe who create a new Austen play at each performance. Lloyd is nothing if not diverse. She has been vocal about the tampon tax and created a character called Sanitary Bag Lady who shouted at men who might be disgusted by the mention of menstruation. Most recently Lloyd's profile has risen thanks to her appearances on panel shows and in the final series of Peep Show where she played Jeremy's on-off girlfriend Megan. She's basically great. Keep up with her here.
1. What is the last thing you do before you go onstage (apart from check your flies and/or check your knickers aren't sticking out of your skirt and check for spinach between teeth)?
I normally look at my script, I rarely stick to it, but there's something comforting about glancing at it. Or I try and decipher the notes I wrote on it. And then a good swig of Rescue Remedy - every hippie child's favourite tipple, I don't care if it's psychosomatic, the brandy in it isn't.
2. What irritates you?
Lies, VAT on tampons, the time it takes for them to upload Strictly to the iPlayer. 
3. What is the most dangerous thing you have ever done?
Staying awake for 53 hours to do an improv show? Doing that annually for eight years? That seems to be 'stupid' instead of 'dangerous'.
4. What is the most stupid thing you have ever done?
See above. 
5. What has surprised you the most during your career in comedy?
That some people don't know who or what The Moomins are. But that a surprising amount of people recognise the lady from the Sanitary Bags. 
Interview continues here.