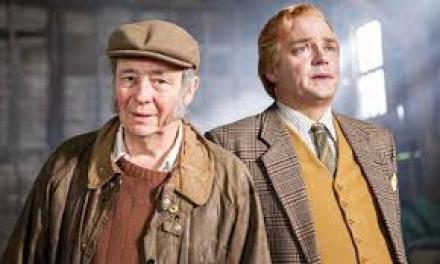 A new interview with Fast Show creators Charlie Higson and Paul Whitehouse is to be made available via the BBC's new online shop, BBC Store. Fans will be able to see the interview, marking the show's 21st birthday, free between midday and midnight this Sunday, November 15. After this time fans can purchase the interview, conducted by Danny Wallace.
In the interview Higson and Whitehouse talk frankly about the pioneering series and the roots of the characters. Interestingly Higson revealed that the initial plan was not for him to play Ralph in the Ted & Ralph sketches, written by Graham Linehan and Arthur Mathews. Higson was a huge Monty Python fan and had been looking to cast a "John Cleese" type of person, but when they couldn't find one he ended up doing it himself.
Elsewhere it transpired that James Bond was an unexpected influence on the sketches. Whitehouse: "We came up with the idea of Jazz Club and I quite fancied hosting it but I thought it would be a bit too much like Smashey. We knew John (Thomson) did a very good Roger Moore so we said do a sort of version of your Roger Moore and off you go. We already had the idea for Jazz club but borrowing a bit of Roger Moore." Higson: "In the same way Swiss Toni was me attempting to do Sean Connery. But I'm not an impressionist!" Higson, of course, went on to write the Young James Bond novels.
As for more Fast Shows, it's not never say never again, but was unlikely, according to Higson: "It is a tricky one. It was 21 years ago and we've all got a lot older. People have cherished memories of it. So just watch your DVDs. All we're going to do is come along and make people think it's not quite as good as it used to be."
The Fast Show at 21: An Evening with Paul Whitehouse and Charlie Higson will be available to watch on BBC Store bbcstore.com on Sunday 15 November between 12 midday and 12 midnight. The Fast Show is available to buy now at bbcstore.com