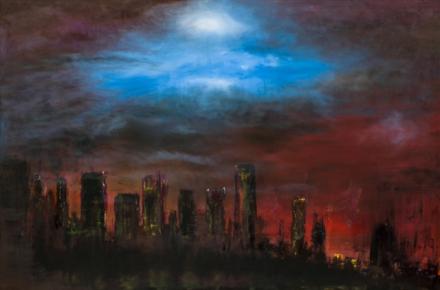 Update - the picture was sold at auction for £1500.
A painting by Ricky Gervais is to be auctioned in Glasgow with all proceeds going to cancer charity Maggie's Centres. 
The picture is called Sunset Cityscape and shows the New York skyline at night-time. The picture is oil on canvas and measures 101.5cm x 152.5cm and the guide price is £1500 - £2500.
Gervais's mother died of cancer and he has given the ticket money from a number of gigs to MacMillan Cancer in the past. The painting was first shown in Inverness in 2012 as part of an exhbition by artists who have been affected by cancer.
The auction takes place on October 25. Register here with McTear's Auctioneers to bid live online.