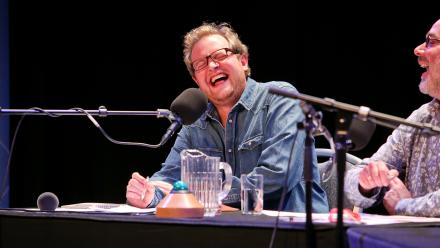 Miles Jupp made his debut as host of The News Quiz last night. The programme was pre-recorded in London on Thursday evening.
Judging by the pictures Jupp certainly seemed to be enjoying himself and did not show much sign of nerves.
He was joined by a panel consisting of comedians Susan Calman, Sarah Kendall, Mark Steel and journalist Danny Finkelstein.
Miles Jupp's debut will be broadcast tonight on Radio 4 at 6.30pm.
Listen to a trailer here in which Jupp discusses Jeremy Corbyn.