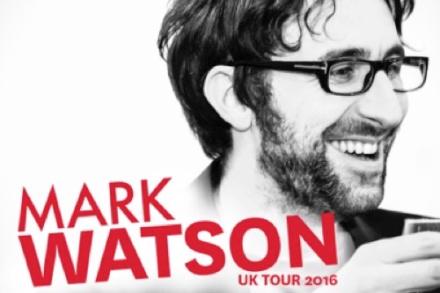 Mark Watson has announced the follow-up to his last show Flaws. Watson goes on a 69-date tour with I'm Not Here, starting in Aldershot on March 2, 2016. Tickets will be released for pre-sale with See Tickets on Monday 14th September and go on general sale on Friday 18th September.
A seemingly minor problem at an airport forms the starting point of the show, which spirals into an examination of identity in the digital age and a search for meaning in our lives. Fans are also promised lots of jokes as well as Watson's customary flailing and audience interaction. 
Watson is one of the most decorated performers on the UK comedy scene. He was nominated for Best Newcomer at the 2005 Perrier Awards, before being awarded the 2006 if.comedy Panel Prize for his record-breaking marathon show. He took home the Time Out Critics Choice Award in 2006 and has been nominated for a Barry Award from the Melbourne Comedy Festival.
Mark Watson was the star of Dave TV's Road to Rio, as well as the host of BBC 4's We Need Answers. He has also regularly appeared on BBC 2's Never Mind The Buzzcocks, and Mock the Week, BBC 1's Would I Lie To You and Have I Got News For You and Dave's Argumental. He has performed stand-up on BBC 1's Live At The Apollo, Michael McIntyre's Comedy Roadshowand Channel 4's Comedy Gala.
As well as his TV work Mark has had a number of hit radio shows, including Mark Watson Makes The World Substantially Better, Mark Watson's Live Address To The Nation and Mark Watson Talks A Bit About Life, as well as 100 Million or Bust on BBC Radio 5 Live, where he is also a regular contributor to Fight Talk.
He has also written a number of novels; Hotel Alpha, Bullet Points, A Light-hearted Look At Murder, Eleven and The Knot. Following his efforts to halve his carbon footprint, he also wrote the book Crap At The Environment. He is currently working on his sixth novel, due to be published in Summer 2016.
For full tour dates and ticket details including pre-sale link click here.