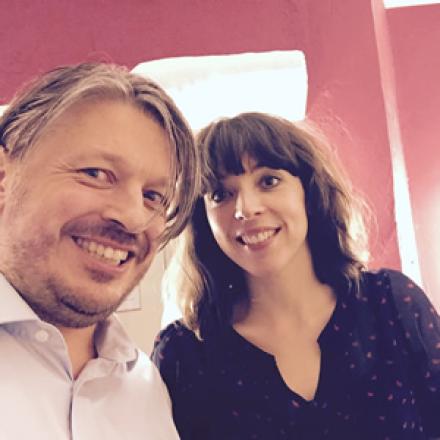 Richard Herring's latest podcast comes complete with an elephant in the room. Unless I missed it his interview with Bridget Christie doesn't contain any mention of her "fictional husband", aka Herring's comedy partner Stewart Lee. 
This felt like a strange unexplained – as I said, unless I missed it – omission. If anyone is in a position to discuss Christie's relationship with Lee and do a bit of a compare-and-contrast it is Herring.
But hey ho, I guess these consistently entertaining Leicester Square interviews aren't competing with gossip rags like the Daily Mail and aren't interested in digging into people's personal lives. Not that I wanted it to dig much, maybe it's just me who would like to know if they ever talk about their work together in any way at all. 
Instead Herring's podcast more than makes up for this omission with a really enjoyable chat with Christie. The conversation is based around her recent brilliant book but probes a little deeper into some of the stories she mentions there. How she was sacked from her job as a milkmaid, how she ended up in a biker gang and how she was once mugged for £5 in Brixton.
Unlike TV chat shows Herring doesn't mention incidents just to cue up pre-planned anecdotes. Everything has a lovely loose feel about it. It helps that both participants are naturally witty and also relaxed with each other. Sometimes the conversations are a little stop-start in these podcasts but this one flowed nicely. Herring didn't even have to resort to his emergency questions (not sure if he still asks guests if they've ever tried to give themselves a blow job but he certainly didn't feel the need to ask Christie).
Eventually the talk gets more serious as Christie moves from discussing her years of struggle to feminism. But as with her recent acclaimed live shows there is a lightness of touch here, making the hardest of facts easy to take in. There is some good, pithy stuff about freedom of speech and the suggestion that lefties dominate comedy.
Christie also had an interesting take on the resistance to female stand-ups, quoting Mary Beard, who has said that we are simply not used to seeing women speak in public in any context. Christie has done more than her bit to help to shake off this perception.
Get this latest podcast here. Watch it on YouTube here. Contribute to Richard Herring's latest Kickstarter campaign here.