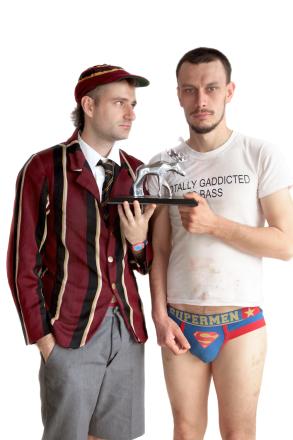 This year's Edinburgh Fringe seems to be wide open when it comes to awards. Is a newcomer going to win the main Foster's Award? And if so who? Meanwhile the first major Fringe comedy competition may – or may not – have offered some hints with a final that featured an intriguing mix of newcomers and familiar names.
First up was Stuart Goldsmith, who, like a number of acts, quickly addressed the fact that his ten minute set might seem a little out of context outside the full hour. That didn't stop it from being very witty, as he touched on his grandmother's dementia before moving on to find the funnies in the way different countries tackle Alzheimer's. In Holland, for instance, they have built a whole village for people with dementia like a kind of reverse Truman Show. Goldsmith was quick and insightful and might have fared better, but first spots are always tough.
Second on was another familiar name from the London circuit. Alistair Barrie also acknowledged the challenges of putting ten minutes of a narrative show onstage but met the issue head-on with onscreen pictures that referenced the oddness of trying to condense the story of his wife's cancer treatment into 600 seconds. As with Barrie's recent appearance in the English Comedian of the Year Final, he showed what a pro he was, juggling belly laughs with clever, more thoughtful lines and pacing things well. He certainly got top marks from me (I was a punter – the audience handed in votes, but there was also a judging panel). 
Stephen Bailey brought a change of pace and tone to proceedings. Bailey is a camp northern comic, a bit Alan Carr, a bit Paul O'Grady. But while he was not particularly original he was brimming over with confidence as he delivered a tight-yet-gossipy set about coming out to his family. There is definitely plenty of potential here – if Bailey doesn't make it as a stand-up he could probably land a part on Coronation Street.
Another northerner Scott Bennett was a new name to me but clearly has a big future if his brief set was any guide. Bennett was probably the most conventional observational comic on the bill but that was no bad thing and there were flashes of the likes of Peter Kay, John Bishop and Jason Manford in his stories. His strongest routine, about his bargain-hunting dad's ability to pile a gut-busting amount of food on his plate in carvery restaurants, was hardly breaking new ground but Bennett took it to superb extremes. I don't know if he was penalised for it, but his riff certainly pushed him over the ten-minute mark, though I don't think the chuckling audience was that bothered.
Last act of the first half was the much-talked-about Richard Gadd. While compere Mark Dolan was introducing him Gadd's onstage sidekick Ben Target, who plays his techie, was already getting laughs fiddling with his laptop. Some might have thought this gave them an unfair advantage as it meant they effectively had more than ten minutes, but there is no denying that Gadd packed a lot in – meta-comedy, post-modern banter, a cartoon-violent film (though the punchline is so good I can't help feeling I've heard it before), a closing song and some dark edgy stuff too. Probably not all suitable for a lunchtime show, but a deserving winner.
Review continues here.