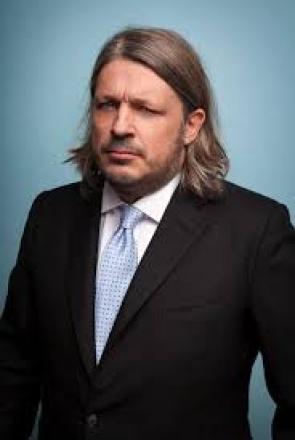 Richard Herring has launched a new Kickstarter campaign to help to pay for the filming of the eighth series of Richard Herring's Leicester Square Theatre Podcasts.
There will be up to 20 episodes in this series, which is more than before, so he is now trying to raise £50,000 by September 12. Last time just over 1000 people raised over £30,000. Guests in Series 7 have included Johnny Vegas, Robert Webb, Louis Theroux and Robin Ince.  
Herring has explained on the Kickstarter website that the money will definitely not be going into his pocket. "Your money will go towards paying the camera operators, George the incompetent sound guy, the editor, Chris Evans (not that one) and other production costs that add up to £2500 per episode (including VAT). We are really only looking to cover our costs so that the filmed version can continue. If we are unsuccessful we will continue the series in audio form only."
As usual with Kickstarter, investors will get a little treat in return for their money. If you donate £10, for example, you will get a badge based on Herring's fallback interview question "would you like a ham hand or an armpit that dispensed sun cream?". If you pledge £1500 you can have a 30 second advert on an episode, though Herring retains the right to refuse an ad that is pornographic or one that is not in keeping with the "high moral standards of the enterprise" - his words, not mine.
Pledge money here.