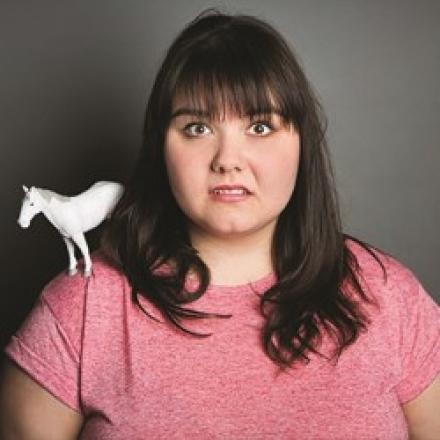 ****
When Sofie Hagen decides to do something she certainly follows through. Whether it is becoming the world's biggest Westlife fan at the age of 13 or making it on the UK stand-up circuit. The unashamedly competitive Danish comic has been a regular club performer for the last few years and this year's full-length show, Bubblewrap, marks a major breakthrough.
It also offers an insight into her psyche as she tells the story of her difficult teenage years when Westlife offered her some emotional security. Her obsession with the boy band seemed to know no bounds, as she confirms onstage by revealing an unhealthy knowledge of their minutiae. 
Hagen has a instantly winning personality, with a nice line in perfectly timed deadpan asides. The packed Friday night crowd would not have known who she was but instantly warmed to her honesty and smutty confessions. On the surface this is quite a light show, but gradually Hagen touches on much more serious issues such as depression and mental illness. 
It is hard to get the balance right between preaching and comic patter but she does it very well, wittily addressing the issue of body fascism and attacking the media and beauty industry for perpetuating images that are often unattainable. Her message is fairly simple. Learn to love yourself. Whatever shape you are you can still be happy. And echoing recent comments from Amy Schumer, whatever shape you are, you can still have plenty of good sex.
There are lots of big laughs in this show, particularly as she recalls her superfan years and reads out some excruciatingly awkward fan fiction she penned as a teenager. There are two lessons to take away from Bubblewrap. First don't worry, be happy, and secondly, beware of what you write as a teenager or it may come back to bite you on the bum. Though on the plus side it may also help you to write a hugely entertaining Edinburgh show.
Until Aug 31. Free. Info here.