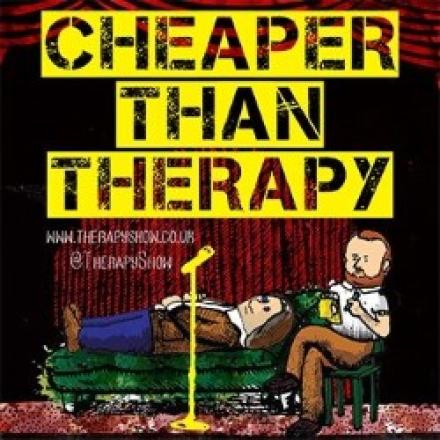 It's clear from this year's doorstep Fringe booklet that mental illness is going to be one of the recurrent themes of the Edinburgh Festival. Bryony Kimmings, who gave this year's Welcome Address to the Fringe, is doing a show with her partner about his depression and I've heard great things, if that's the right phrase, about the play Every Brilliant Thing, which covers loosely similar terrain.
So it was somehow apt that, having arrived in the city later than planned the first thing I stumbled into by accident was a show about the subject taking place on maverick promoter (ie amiable nutjob) Bob Slayer's Blundabus. Cheaper Than Therapy is a roving roundtable thingy chaired by Irish comic Christian Talbot. It  features different topics each day, this one just happened to be about depression.
The four guests all had experience of depression. In fact at times one needed a degree in pharmacy to understand the various medications they had all taken in the past. The main question Talbot asked was is there a connection between mental illness and humour? 
Renegade reviewer Kate Copstick revealed that she has tried all sorts of drugs as well as copious amounts of vodka and cycling around Shepherds Bush roundabout the wrong way in an effort to deal with her bleak black dog moods. Juliette Burton has been on things such as Prozac since she was a teenager. Joshua Ross had a breakdown at twenty and bearded Dane Valdemar Pustelnik was proof that not all Scandanavians have perfect lives.
Obviously this wasn't a peer-reviewed conclusive, definitive study. The guests may have been invited because of their own relevant stories and there was no control group of "normal" comics. But the chat certainly raised the strong possibility of a connection between the comic mind and the troubled mind. In fact Talbot also revealed during the show that he too had been on various meds over the years.
Despite the subject matter the mood was mostly light and proceedings concluded on an upbeat note with Aidan Strangeman (funny name, funny guy) singing a song about a very famous actor that I haven't been able to get out of my head since.
I've not awarded this show a star rating because BTJ's policy during the Fringe is not to award stars to group/special guest-type shows as you can't go out and see the same show yourself. But I'd certainly recommend popping onto Bob's bus to catch other chinwags (free but donations welcome) or see Christian Talbot and Juliette Burton's solo shows. Joshua Ross and Valdemar Pustelnik are clearly worth a look too. And, quick personal plug, if this subject interests you I've also covered it in my book, Beyond A Joke.
Cheaper Than Therapy runs until Aug 23. Info here.