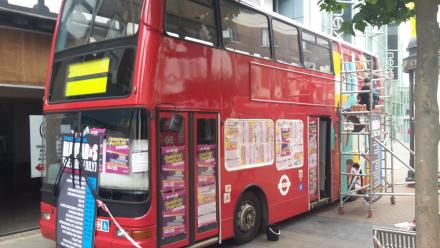 Maverick promoter Bob Slayer has challenged other buses in Edinburgh to a race. Slayer is putitng shows on in Edinburgh this year on his BlundaBus, which has recently been a pop-up venue in Croydon. The BlundaBus shows run from August 6 - 31 next to Potterrow Underpass. Details of gigs
here
.
Slayer has now decided that he has the best bus in the city and wants to prove it, laying down the gauntlet here:
"You wait around for ages then...Fringe 2015 seems to the year of the bus. Of course there have been various Double Deckers at Edinburgh Fringe over the years but this year we've already counted four Double Decker Busses at the Fringe: Underbelly have gotten themselves one, captained by our friend Henry Maynard, there is a haunted one and I am also told that some bank has one for evil banking business...
So how about a BUS RACE? 
We Hearby challenge all Fringe Buses to a race at Knockhill, Scotland's National Motorsport centre (30 mins from Edinburgh. Or 45 mins if you go by BlundaBus!)
Harry Hill has agreed to be official starter... Come on Fringe Buses pick up the challenge!"
If anyone wants to take Bob Slayer on pop to the venue or email him at 

[email protected]