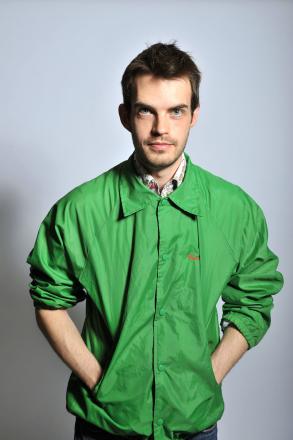 People talk about overnight success in comedy but it's not really like that. Anyone who breaks through has probably been slogging away on the circuit for years, gigging to one man and his dog before finding their voice, getting good and being appreciated. Pat Cahill has been going since 2009 and has been tipped for greatness ever since he won the New Act of the Year Final in 2012. He is not your run-of-the-mill stand-up, but neither is he so off-the-wall he won't work on telly if that's what he wants to do. He tells stories and uses props in his own idiosyncratic fashion and to give too much away would spoil the surprise. He is simply very good indeed. Just read this interview below to get an idea of Cahill's unique view of the world. 
Pat Cahill is at Heroes @ The Hive from Aug 6 - 30, info here.
1. What is the last thing you do before you go onstage (apart from check your flies, check for spinach between teeth and check your knickers aren't sticking out of your skirt)?
2. What irritates you?
Poor seasoning levels.
3. What is the most dangerous thing you have ever done?
Moved to London.
4. What is the most stupid thing you have ever done?
Thought that I knew what I was doing.
5. What has surprised you the most during your career in comedy?
How hard it is.
Interview continues here.