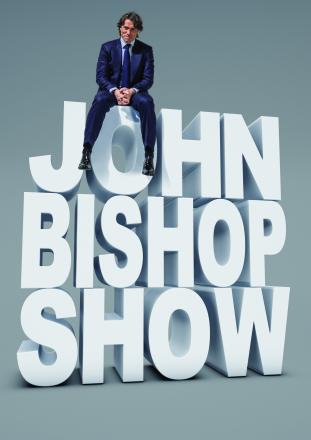 These are busy times for television-friendly comedians. Even though Live at the Apollo is taking a break there seem to be more mainstream openings than ever for those that fancy a bit of exposure. ITV1 has Sunday Night at the Palladium and now BBC1 has jumped in a day earlier with The John Bishop Show.
Both go for an unashamedly populist, shiny-floored variety approach with dancers and speciality acts jostling for attention with pop stars and stand-ups. On Bishop's first show Paul Weller is the big musical guest and the host genuinely seems to be a fan – he says that when he was a teenager Weller was the only poster on his wall apart from topless women and Liverpool footballers.
That's virtually the only mention of Liverpool in this opening episode. Despite being hosted by the most Scouse man on the planet outside a Harry Enfield sketch the programme, filmed at the Hackney Empire, opts for a Swinging London vibe. Or at least a cheesy 1970s tourist brochure version of Swinging London. In the opening credits guests' names are featured on adapted shop fronts – bizarrely a well-known naff Steak House chain becomes the James Acaster Steak House and, even weirder, Felicity Ward's name is plastered in neon above a sex shop…
So what about the actual comedy? For a mainstream show it's pretty good. Bishop does his long-suffering dickhead of a dad schtick brilliantly, moaning about having three fully-grown sons in his house and having to go to the gym in case one day he has to fight them for food. He suggests there ought to be a height limit and once kids reach it they must move out. My own idea is similar. Once they have a beard they have to move out, but I've got daughters so it doesn't quite work.
First guest Felicity Ward quickly won the audience over with some easy-going gags about Aussies and relationships, although there was an awkward moment when she talked about Australians being racist and someone seemed to cheer at the wrong moment, as if this was a good thing. Ward showed her experience and handled it slickly before moving on to some surprisingly political material about an Twitter spat. It's not very often you hear the phrase 'feminazi libtard slut' on BBC1, so good on Ward for getting that in.
I've been watching James Acaster for years now and while I've always loved him I'm a comedy snob and could never see him being a star. But then I thought the same about someone who Acaster often reminds me of – Jarvis Cocker. So if Cocker can become a household name why shouldn't Acaster? His set here featured edited highlights of last year's Edinburgh hit and his routine about loopholes to get free ice cream and infinite wishes was extremely well-received. What once seemed quirky and alternative now seems very accessible, which just goes to show that good writing will always be funny.
Bishop's final stand-up guest - after Beardyman provided some neat beatboxing and improvised songs – was Trevor Noah. If you've read this far you will probably know Noah already and know that he is taking over from Jon Stewart on The Daily Show soon, but he hasn't quite left stand-up behind. And like Ward his excellent set was also edgier than one might have expected for BBC1, touching on England's history of colonising every corner of the world. It was pretty apt. At the moment stand-up seems to be colonising every corner of television. Only this time it's the kind of colonisation that seems like a Good Thing.
Saturdays, 9.45pm, BBC1.