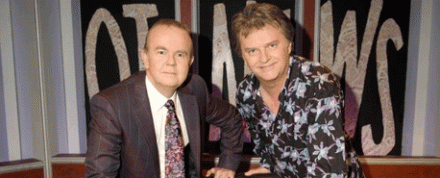 I haven't reviewed Have I Got News For You before but I particularly wanted to review this post-Election edition. Much has been written recently about how TV satire has to compete with the rapidfire responses of Twitter. This week's edition was recorded this morning instead of the night before to be more topical. So did the satirical stalwart manage to have an original take on a subject that already feels like it has been trawled to death? 
The difficulty is that devising new jokes is becoming harder. Earlier this week there was a complaint on Twitter from comic Jim Tavare who claimed he had heard one of his old gags – about how he had ended up voting for the pizza delivery company who kept stuffing leaflets through his door – used on C4's Ballot Monkeys. One of the programme's writers, Pete Sinclair, insisted that they came up with the joke independently.
And this does happen. I know. Earlier today I tweeted the picture of Britain in the latest political party colours next to a picture of Homer Simpson and added the caption "Yellow on top, blue below." I had a few RTs then about 30 minutes later I saw a similar but clearly older Tweet come up that had had thousands of RTs. I genuinely hadn't seen it, but deleted my Tweet to avoids accusations of plagiarism.
Anyway, how did HIGNFY do in the originality stakes? Guest host Jo Brand's opening round had a few clips I hadn't seen and one that I'd seen on Facebook of a man falling backwards in pub. Same clip, different gag.
The round-up of election night videos prompted the inevitable gags about Paddy Ashdown threatening to eat his hat. Props to Romesh Ranganathan for being able to string a sentence together after putting in a strong appearance on C4's late-night coverage with Jeremy Paxman last night.
It was probably the people who chose the topical footage that had the work cut out for them. I hadn't noticed the BBC caption for 'Renfrewshite' South so that was a good spot. Although I had seen the man eating a muffin behind Lucy Powell and I'd also seen the footage of the student whose trousers fell down as he tried to take a photo of Nick Clegg. 
Of course we had Ed and that stone. Ranganathan playfully suggested his brother David may have set up the idea. "It will go from Ed Stone to headstone," said Jon Snow to a mix of giggles and winces.
There was the now mandatory clip of George Osborne in a hi-viz jacket, though a different one to the one featured on Charlie Brooker's Election Wipe.
Paul Merton was quite quiet, though he perked up when the panellists were told on-air that Miliband had quit – Merton offered to replace all three leaders. Ian Hislop, meanwhile, was concerned about the excessive Lib-Dem bashing from Brand, who gamely pointed out that she hadn't written her script.
Jon Snow plugged away and finally hit paydirt with the story that Vincent Cable's bike had been stolen:  "he's lost two seats," the C4 newsreader said and nearly did a lap of honour of the studio when he got a round of applause.
Not a vintage show then. But then it was probably tough for them filming early in the day after a long night. And it can't be easy coining new gags off-the-cuff when the whole world has got there first. So spare a thought for Rory Bremner – his BBC Election show doesn't go out until next week…
Fridays, 9.30pm, BBC1.