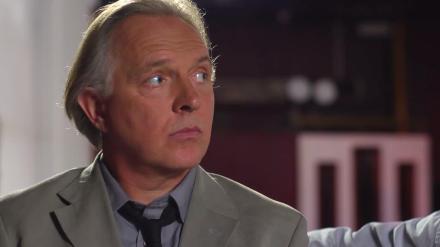 Update 8/6/15: A date has now been confirmed for the London Premiere of Rik Mayall's final unreleased film, One By One. It will be on June 25 at the Premiere Cinema Romford. Tickets will be on sale from 9/6/15, exactly a year after Mayall's death, via www.filmvolt.com priced at £8. The evening will open with a Q and A. There will also be a screening in Nottingham on June 21 at the Screen 22 cinema. Read more about the project below.
Following our story that Rik Mayall's last film performance in The Escape is to get a release in Holland in April, it has emerged that there is a second unreleased film featuring Mayall, entitled One By One, which claims to be his last British feature film and has a confirmed UK release date. It will be screened from this June.
One By One is a conspiracy thriller shot around England, written and directed by Diane Jessie Miller. According to the production information, "a cafe worker is violently jolted from her day to day existence when offered the startling revelation that this world may be on the brink of destruction, or revolution, or both." It has the catch line "When the men behind the curtain run out of enemies…you're next!"
The Young Ones star filmed some of his scenes in the centre of Wokingham in 2011. The film was shot in 25 days for £25,000 and paid for via crowdfunding. The makers have issued a statement about Mayall saying: "We all feel honoured and blessed to have known and worked with him."
One By One, produced by Boiling Frog Films, will open in independent cinemas across the UK, starting in Nottingham on June 22.
Read about Mayall's other upcoming film, The Escape, here.
Watch Mayall in a clip from One By One here.