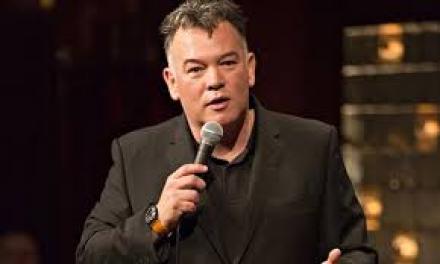 Comedian Stewart Lee has attacked ticket agencies who, he claims, are charging up to £99 for tickets to his Room With A Stew tour.
In an article entitled Run To The Hills on his website, Lee has written that "As you may have noticed Stub Hub, Viagogo and E-bay have been touting tickets for the current Room With A Stew Tour at up to £99, a nearly 400% mark-up on seats, many of which are in publicly subsidised venues, the utter bastards."
He goes on to explain that he has tried to do something about this: "I have contacted Stub Hub and Viagogo about this, they have of course pointed out it is all technically legal, and will not be drawn into discussion about the difference between law and ethics.
If you go into Stub Hub's office on Great Portland St you can try and eat as many free sweets off the desk as possible while you argue with the bloke there, even though it's not his fault and he just has to use words like 'platform' over and over again to avoid commenting on anything."
He goes on to criticise politicians for not doing enough to stamp this out. "The Culture Secretary Sajid Javid has said the only people that oppose touting are 'chattering middle classes and champagne socialists'. He also wants the arts to be more 'accessible' to justify subsidy. He has not replied to any of my e-mails, and nor has the shadow Culture Secretary.
I oppose touting because I want my shows to be accessible to all, so that everyone can come and hate them as equals, and I cut corners to keep tickets as cheap as venues will allow me to make them. I don't see why this is 'champagne socialism', and if it is, I am all for it. Also, let's face it, I don't write £99 shows. That said, I don't think they will shift these mark-ups to my audience anyway."
Lee was moved to write because rock band Iron Maiden have also recently taken on this issue. On his website he links to their own campaign: "I urge you to support them and fill in the forms below. Also, drink their Trooper beer. It is ace. I will not pretend to be a Maiden fan but who cannot like Run To The Hills and 666?"
He also added that his own fans may not need to pay inflated prices as he is adding more dates at the Leicester Square Theatre this autumn. "Artists shouldn't have to have their tickets sold at higher rates than they want them to be sold at. It is wrong. The Free Market, in this case, can fuck off."
Read more here.