By Bruce Dessau on
28/1/2015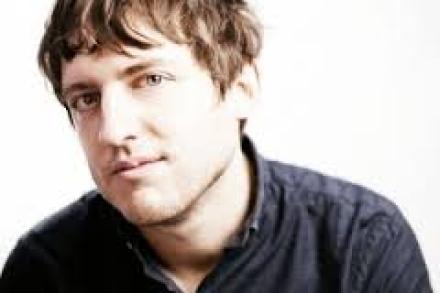 For those of you enjoying Crims on BBC3 you may be interested to read this review of Elis James when he did a stand-up show at the Edinburgh Festival in 2012. His stage persona was not a million miles away from his Crims character, a bit on the meak side but not by any means stupid. For some reason the picture taken of him to go with the review, first published in the Evening Standard. Anyway, I thought he was an awards contender with this live show but he missed out. Let's hope he doesn't miss out on gongs with Crims. By the way, his girlfriend with the noisy biological clock referred to below is fellow comic Isy Suttie and they do now have a baby.
Cardiff comedian Elis James starts his latest show by flashing back to a nightmare Fringe gig last year when a promising performance was derailed by a gobby gang of disruptive Glasgow Rangers fans. Last year's show was clearly not as strong as his 2012 reboot. This set, whimsically entitled Speaking as a Mother, is funny, charming and compelling enough to placate the rowdiest of Rangers fans.
James has a lovely, lilting way with words as he shoots the breeze about his family, his girlfriend and hitting his thirties. He feels unable to grow up and it can only be a matter of time before the NHS recognises his condition, which he dubs "Adult Imposter Syndrome". He has just moved in with his partner and while the ticking of her biological clock is getting deafening, James, all dishevelled hair and bemused stare, barely feels as if he is out of puberty.
He is certainly mature when it comes to his performance though, delivering a succession of skilful, snappy anecdotes. The highlight is his encounter with two teenage girls who singled him out for rap-based mockery during a train journey. He is also very good when revealing his father's ruthlessly logical cost-benefit analysis view of parenting — or "major burden" as dad describes it. There is no major burden watching this gig though. Elis has undoubtedly had the last laugh over 2011's tormentors — Rangers have been relegated, he is in line for comedy promotion.