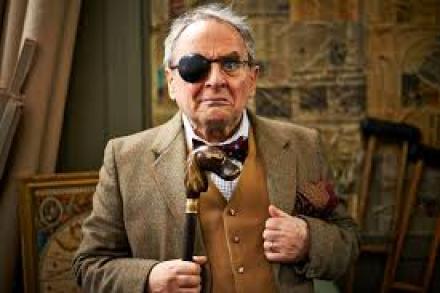 I'm quickly developing a bit of a soft spot for Crims. The new prison-based sitcom does not exactly reinvent the wheel when it comes to the genre, but there is definitely something fresh about it which makes it very watchable.
In the second episode there is a familiar old face among the inmates. And I'm not talking about Welsh stand-up Elis James – it has not been explained how someone whose teenage years are clearly a long way behind him is in a Young Offender institution. Maybe that's a twist that will come out later.
I'm talking about the cameo from former Dr Who Sylvester McCoy as eccentric eye-patched teacher Mr Dunlop. Luke (James) decides to sign up for a Latin A level to impress his girlfriend only to find to his horror that he is the only one in the class. Thinks look up, however, when it turns out that his tutor is grieving for his dead wife and has decided to make lessons more fun – cue montage featuring dancing, massive cheese boards and lots of booze.
But when Luke is given bundles of credit vouchers – golddust behind bars – and word gets out, everyone else wants in on the act and soon the class is overflowing. Even Luke's Twilight-loving nemesis, prison bully Marcel, wants to mug up on the Etruscans. With, of course, classic disastrous consequences.
Adam Kay and Dan Swimer's script keeps things moving along with short, sharp scenes. Swimer worked on Bad Education, which was famously full of plays on the word "banter". Here Luke's dim mate Jason (Kadiff Kirwan) is constantly coming up with Baldrick-like schemes - cue wince-making puns on the word "plan" such as Jason dubbing himself  "Planton Du Beke". The format is pretty cheesy but that doesn't stop it from being pretty funny. Maybe it even helps.
McCoy pretty much steals every scene he is in and there are some useful contributions from Ricky Champ and Cariad Lloyd as Porridge-style good-cop-bad-cop wardens Dawn and Creg. Judging by the Google searches that have been bringing viewers to my review of the first episode Cariad Lloyd is building up quite a following. The series deserves quite a following too.
Thursdays, BBC3, 10pm. Watch Episode 2 on iPlayer here.